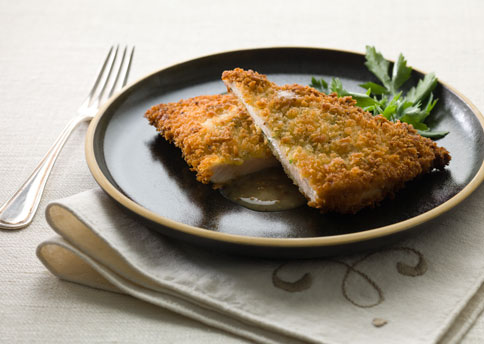 Easy to whip up any night of the week.  Most of the items used are already in your pantry.  Try pairing up with Maple-Roasted Brussels Sprouts w/Toasted Hazelnuts.  Panko is in the breadcrumb aisle at your supermarket.

Size:

4 servings



Ingredients:
2 8 oz skinless boneless chicken breast halves, cut crosswise in half
1 large egg
1 tbsp finely chopped fresh Italian parsley
2 tsp plus 2 tbsp Dijon mustard
1 cup panko (Japanese breadcrumbs)... I finely grind in food processor
2 tbsp olive oil
1 cup low-salt chicken broth
3 tbsp pure maple syrup
2 tbsp plus 1 tsp coarse-grained mustard
1 tbsp chilled unsalted butter



Directions:




Using meat mallet or rolling pin, pound chicken in resealable plastic bag to 1/3-1/2″ thickness.  Whisk egg, parsley, and 2 teaspoons Dion mustard in large bowl.  Place chicken in egg mixture; turn to coat.  Sprinkle chicken with salt and pepper.  Dip each chicken piece in panko; turn to coat.

Heat oil large nonstick skillet over medium-high heat.  Add chicken; cook until brown and cooked through, about 4 minutes per side.

Meanwhile, whisk broth, syrup, coarse-grained mustard, and remaining 2 tablespoons Dijon mustard in glass measuring cup.

Transfer chicken to plates.  Add broth mixture to skillet; boil until reduced to 3/4 cup, stirring occasionally, about 4 minutes.  Add butter; whisk until melted.  Spoon sauce alongside chicken.