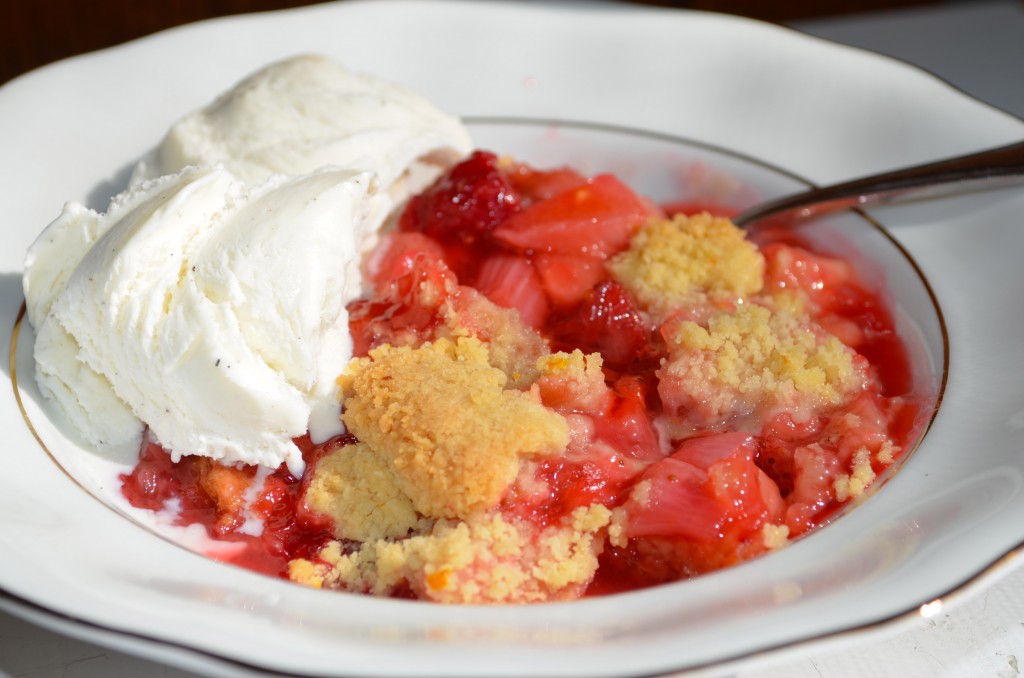 prepared by and photo by Emily S. Downs

Down-home delicious!  Once you break through the crumble topping, a combination of sweet, tart berries and rhubarb hits you with an irresistibly warm and tingly feeling.  Vanilla ice cream or yogurt along side is a must.

Size:

serves 6



Ingredients:
1 1/2 lbs rhubarb, cut crosswise into 1/4" thick slices, leaves discarded
2 cups raspberries OR sliced strawberries, OR a combination
1 1/4 cups sugar
2 tbsp instant tapioca
1/2 tsp finely grated orange zest, plus 2 tbsp fresh orange juice
Pinch of salt
Crumble Topping *
Vanilla ice cream or yogurt, for serving (optional)



Directions:




Preheat oven to 375F.  Stir together rhubarb, berries, sugar, tapioca, orange zest, orange juice, and salt in a bowl.  Let stand 15 minutes, stirring occasionally.

Place rhubarb mixture in a 9 x 13″ baking dish.  Sprinkle with crumble topping.

Bake until topping turns golden and juices are bubbling, 30-35 minutes.  Let cool on sheet on wire rack 30 minutes.  Serve with vanilla ice cream or yogurt, if desired.