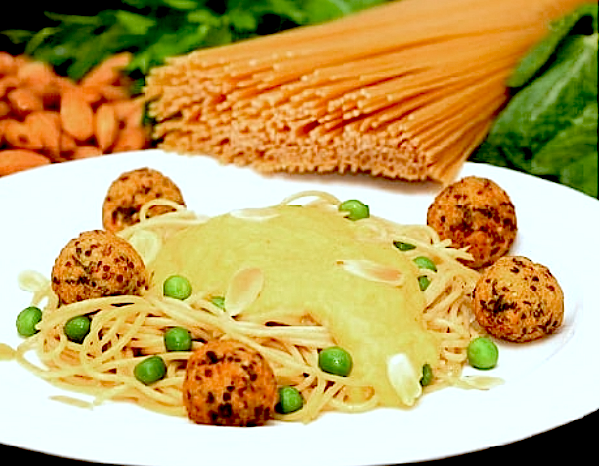 Find Out Why Quinoa is Good for You.
The Valley Hospital "To Your Health" Blog offers great advice, and some healthy delicious recipes. We thought this was definitely worth sharing … healthy, delicious and totally in food-vogue. This no-meat alternative to the traditional spaghetti and quinoa meatballs is brought to us by John Graziano, Executive Chef, Valley Dining.
For a Gluten Free version, try your favorite GF pasta or for a real low-carb option, give zucchini noodles a try.
Curried butternut squash sauce:
1 pound Butternut squash, 1 inch cube
2 Cups Low sodium vegetable stock/broth
3 T Coconut milk, unsweetened
1 T Almond butter, organic
1 t Kosher salt
1 t White pepper
3 T Curry powder
1 T Olive oil
Direction:
1. Coat squash with olive oil. Add curry powder to squash and cover well.
2. In a 350 degree oven roast squash until golden brown. About twenty minutes.
3. In a food processor add warm squash, vegetable stock, coconut milk and almond butter. Puree until smooth.
4. Season with salt and pepper.
Quinoa falafel balls:
6 oz Chick peas, canned, washed and drained
12 oz Quinoa, cooked
6 T Whole wheat flour
¼ C Fresh mint, chopped
¼ C Fresh Italian parsley, chopped
1 T Garlic, minced
1 T Onion, minced
2 T Tahini, organic
1 ea Lemon
1 T Extra virgin olive oil
1 t Kosher salt
1 t Pepper, ground
Directions:
1. In a food processor add chickpeas, mint, parsley, garlic, onion, tahini, juice of lemon, salt, pepper and extra virgin olive oil. Pulse until chunky and blended. Do not make mixture totally smooth.
2. Place chick pea mixture in a bowl and add cooked quinoa.
3.Toss mixture together while adding whole wheat flour. Mix until a small ball is easy to form.
4. Using a one ounce scoop (or table spoon), scoop mixture making one ounce balls.
5. Sauté in a hot pan until balls are golden brown.
6. Serve 5 balls per order.
Pasta:
8 oz Barilla whole grain spaghetti
4 oz Baby sweet peas, defrosted
1 T Extra virgin olive oil
½ C Toasted almonds
Method:
1. Bring 4-6 quarts of water to a boil. Add salt to taste
2. Add pasta to boiling water.
3. Cook for 7 minutes
4. Drain well.
5. In a separate pan heat up peas with extra virgin olive oil.
6. Add pasta to pan and toss well.
7. Add curried butternut squash sauce over top of pasta
8. Add quinoa falafel balls
9. Garnish with toasted almonds