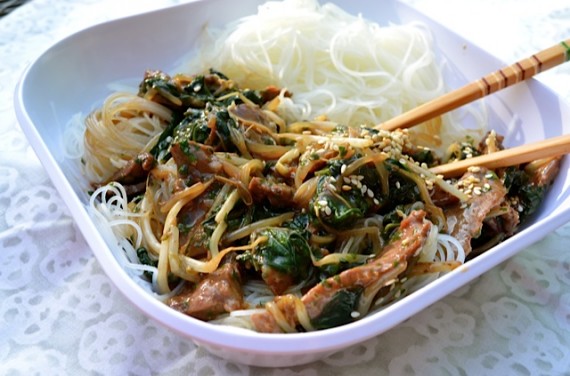 prepared by and photo by Emily S. Downs

One of the beauties of stir-fry is that it cooks up quickly. That and the mere fact that it's delicious!  This recipe was inspired by flavors found in Korean barbecue (according to eatingwell.com). The blend of all it's ingredients combine perfectly for a complete meal.

Size:

2 servings



Ingredients:
3 tbsp mirin (found in Asian food section in markets)
2 tbsp reduced-sodium soy sauce
2 tsp cornstarch
1 tbsp canola oil
8 oz flank steak, trimmed of fat and very thinly sliced against the grain
1 tbsp chopped garlic
2 tsp chopped jalapeno pepper, or to taste
1 1/2 tsp chopped fresh ginger
2 cups mung bean sprouts
1 6 oz bag baby spinach
1/4 cup chopped fresh cilantro
1 tsp toasted sesame oil
2 tbsp toasted sesame seeds



Directions:




Combine mirin, soy sauce and cornstarch in a small bowl.

Heat oil in a large nonstick skillet over medium-high heat. Spread steak out in the pan and cook until seared on one side, about 1 minute. Add garlic, jalapeno and ginger and cook, stirring, until fragrant, about 30 seconds. Add bean sprouts and spinach (the pan will be very full). Pour the mirin mixture into the pan and stir gently until the sauce thickens and the spinach is wilted, about 3 minutes. Stir in cilantro and sesame oil. Pile atop of cooked rice noodles on two plates… top with toasted sesame seeds.