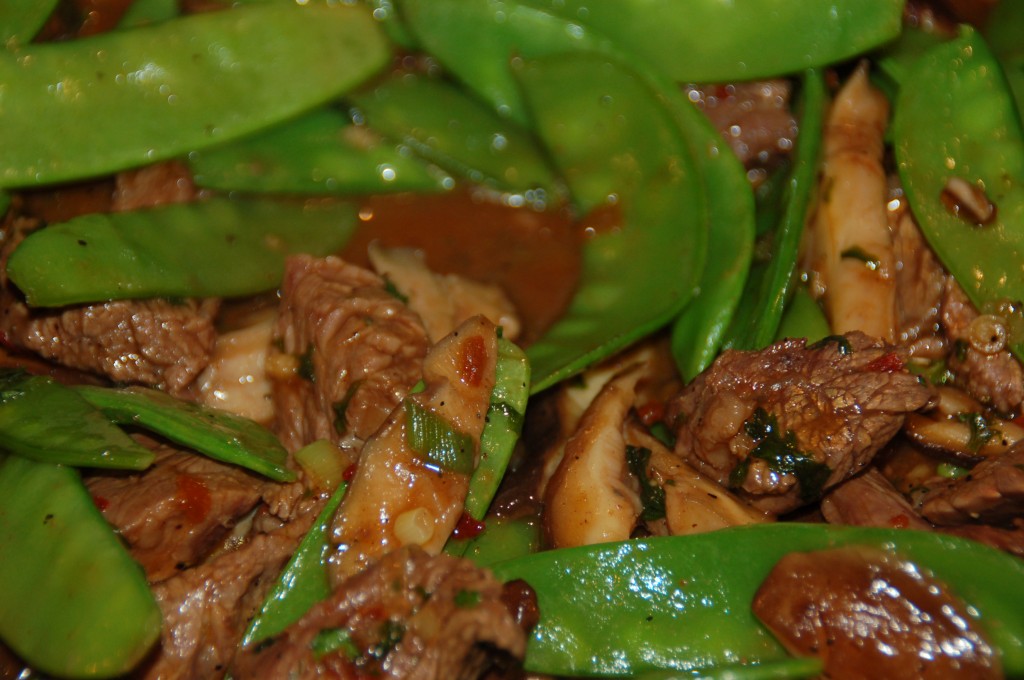 prepared by and photo by Emily Doscher

Size:

4 servings



Ingredients:
1 lb top sirloin steak, cut into 2" long, 1/4" thick slices
1 tbsp Asian sesame oil
1 tbsp minced peeled fresh ginger
12 oz fresh shiitake mushrooms, stemmed, thickly sliced
8 oz snow peas
1 bunch green onions, sliced, divided
1 cup fresh cilantro leaves, divided
5 tbsp hoisin sauce (in international section of grocery store)
1-2 tsp chili-garlic sauce (optional, because really adds heat)
1/4 tsp chinese five-spice powder (in spice section of grocery stores)



Directions:




Sprinkle beef with salt and pepper.

Heat oil in large nonstick skillet over medium-high heat.  Add ginger and mushrooms; stir-fry until mushrooms are tender, about 3 minutes. Add beef to skillet; stir-fry until beef browns but is still pink in center, about 1 minute.  Add snow peas, half of green onions, and half of cilantro; stir-fry 1 minute.

Stir in hoisin, chili-garlic sauce (if using), and five-spice powder; saute until peas are crisp-tender, 1-2 minutes.

Season with salt and pepper.  Transfer to bowl.  Sprinkle with remaining green onions and cilantro.