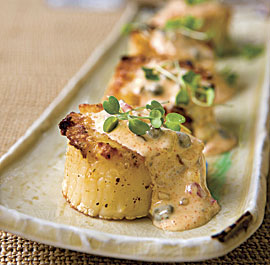 recipe.com
This is an easy to make dish that guests of all ages will love. When my guests ask for the recipe, I tell them it's a NOLA inspired secret recipe my brother created while studying at Tulane – what YOU tell them is up to you!
Serve as an appetizer, toss with lettuce for a salad, or as a main dish.
Ingredients:
20 - 24 large sea scallops (1-1/2 to 1-3/4 pounds), all about the same thickness, side muscle removed
1/2 cup good-quality mayonnaise, such as Duke's or another brand without a lot of sugar
1 tbsp capers, drained and minced
1 tbsp sweet pickle relish
1 tbsp finely chopped fresh tarragon
1 tbsp finely minced shallot
1 tsp tarragon or Champagne vinegar
1 - 2 garlic cloves, minced
1/2 tsp dijon mustard
kosher salt to taste
a good sprinkle of paprika
canola oil
freshly ground black pepper
40 - 48 skewers (optional; if using bamboo, soak in water for 30 minutes)


Directions:
Remoulade Sauce:
Combine the mayonnaise, capers, pickle relish, tarragon, shallot, vinegar, garlic, mustard, salt, and paprika into a blender. Pulse several times, until well combined.
**The sauce can be prepared up to 24 hours in advance, just cover and refrigerate until ready to serve.
Scallops: 
Brush each scallop on all sides with the canola oil and season with salt and pepper. If you like, thread two scallops each through doubled skewers. (This helps in the cooking and turning process. By all means you can skip this step, because your scallops should be big enough not to fall through the grill grate when cooking.)
Oil the grill racks. Preheat your grill using all burners set on high and with the lid closed for 10 to 12 minutes.
Place the scallops over direct heat and cook for 2 to 3 minutes on one side, and then turn and cook for an additional 2 to 3 minutes. The scallops should be barely opaque in the center and should feel firm to the touch but with some give.
Last, either toss the scallops in the remoulade sauce or keep it on the side for dipping.