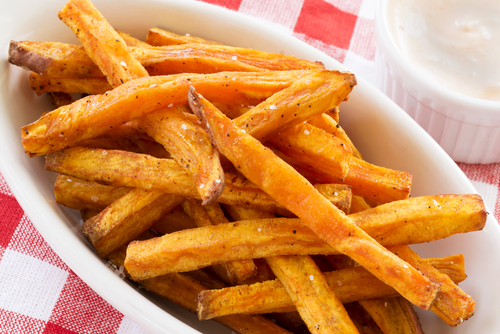 This is a super tasty and healthy snack. It would make a great side at Thanksgiving also.

Size:

2 servings



Ingredients:
2 tablespoons beaten egg
1 tablespoon water
1/3 cup gluten free bread crumbs or chick pea crumbs
2 tablespoons grated parmesan cheese
1/4 tsp cayenne pepper
1/4 tsp pepper
1 large sweet potato, peeled and sliced
2 tsp olive oil
1/4 tsp sea salt



Directions:




In a shallow bowl, whisk egg and water. In a resealable plastic bag, combine the bread crumbs, parm., cayenne, salt, and pepper. Cut sweet potato into 1/4 inch strips( I buy them pre-cut). Add to egg mixture, a few at a time, and toss to coat. Add to the crumb mixture, a few at a time; seal bag and shake to coat.