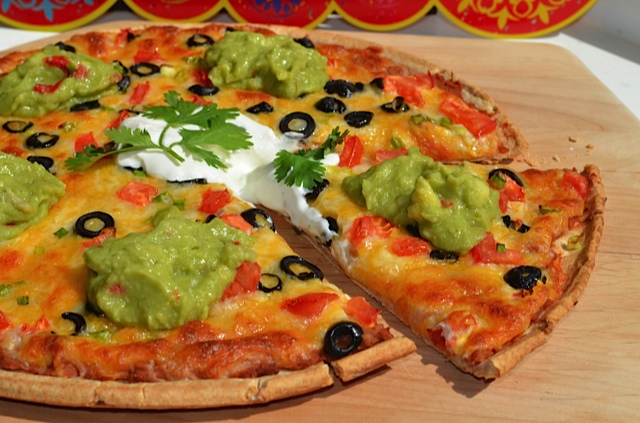 prepared by and photo by Emily S. Downs

Simple and easy.  Make 2 for a perfectly fulfilling weeknight dinner.

Size:

serves 4



Ingredients:
1 thin whole-wheat pizza crust (Whole Foods)
1 cup canned refried beans
1 1/2 cup shredded Monterey Jack cheese and cheddar cheese, combined
1/2 cup chopped tomatoes
1/4 cup pitted black olives, sliced
1 scallion, thinly sliced
4 tbsp guacamole
2-3 tbsp sour cream



Directions:




Set a pizza stone in oven on middle rack and preheat to 450F. If you have no pizza stone, just preheat oven to 450F.

Spread refried beans on top, leaving a 1/2″ border.  Sprinkle with the cheese, tomatoes, olives and scallion.

Slide the pizza onto the preheated stone or onto rack cooking sheet and bake for 12-15 minutes, until the bottom is crisp and the cheese is bubbling.  Transfer the pizza to a work surface and top with guacamole and sour cream.  cut into 4 wedges and serve at once.