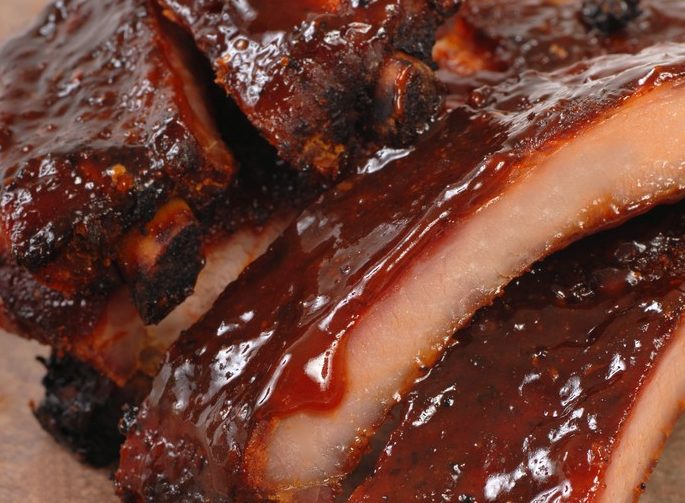 Get ready to get your hands and faces dirty with gooey, chop-licking, hot and smoky bbq baby back ribs.  Slaw and pickles are perfect side-kicks.

Size:

8 servings



Ingredients:
1 tbsp garlic powder
1 tbsp chili powder
2 tsp ground cumin
2 tsp salt
1 tsp coarsely ground black pepper
1/2 tsp ground allspice
6 to 7 lbs meaty baby back pork ribs, cut into 6 to 7 -rib slabs
Hot & Smoky BBQ Sauce



Directions:




Combine garlic powder, chili powder, cumin, salt, coarsely ground black pepper, and allspice in small bowl; whisk to blend.  Sprinkle 1 tsp spice rub on each side of each slab of ribs.  Arrange on large baking sheet; cover with foil and refrigerate at least 2 hours and up to 1 day.

Prepare barbecue (medium heat).  Arrange ribs on rack and grill until tender and cooked through, turning occasionally, about 35 minutes.

Reserve 2 cups Hot & Smoky BBQ Sauce in small bowl.  Brush each side of each pork rib slab generously with some of remaining barbecue sauce.  Continue grilling until ribs are heated through and sauce forms sticky coating, about 4 minutes per side.  Transfer ribs to platter.  Cut slabs between bones into individual ribs and serve, passing reserved 2 cups barbecue sauce alongside.