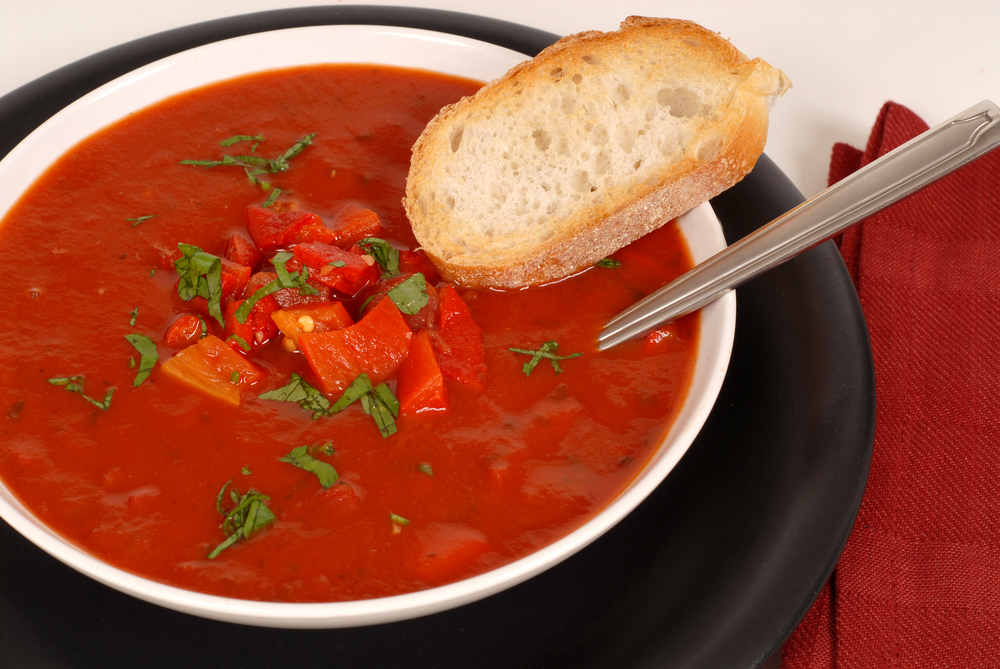 There's something about tomato soup and grilled cheese sandwiches that trigger memories of lunchtime as a kid.  This version is a tad more grown-up using roasted tomatoes, herbs and sauteed garlic.

Size:

4 servings



Ingredients:
3 lbs plum tomatoes, halved lengthwise
8 tbsp olive oil
3 tbsp minced garlic
1 1/2 tbsp finely chopped fresh rosemary or 1 1/4 tsp dried
1 1/2 tbsp finely chopped fresh thyme or 1 1/4 tsp dried
1/4 tsp (more/less) dried crushed red pepper
6 cups chicken stock or canned low-salt broth
6 tbsp chopped fresh basil
16 1/4" thick baguette slices



Directions:




Preheat oven to 400F.  Place tomatoes, cut side up, on large baking sheet.  Sprinkle with salt and pepper.  Drizzle tomatoes with 3 tablespoons olive oil.  Roast until tomatoes are brown and tender, about 1 hour.  Cool slightly.

Transfer tomatoes and any accumulated juices to processor.  Using on/off turns, process until slightly chunky.

Heat 3 tablespoons oil in large pot over medium-high heat.  Add garlic and saute until fragrant, about 2 minutes.  Stir in tomatoes, rosemary, thyme and dried crushed red pepper.  Add chicken stock; bring to boil.  Reduce heat and simmer uncovered until soup thickens slightly, about 25 minutes.  Remove from heat.  (Can be prepared 1 day ahead.  Cover and refrigerate.  Rewarm soup over medium-high heat before continuing.)  Stir in basil.  Season to taste with salt and pepper.

Meanwhile, preheat broiler.  Brush both sides of baguette slices with remaining 2 tablespoons oil.  Transfer to large baking sheet.  Broil croutons until golden, about 2 minutes per side.  Serve with soup.