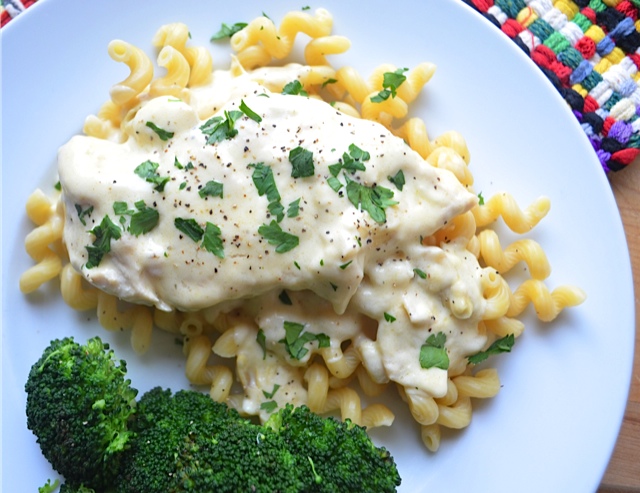 prepared by and photo by Emily Doscher

If you're looking for something easy to prepare tonight, this is your meal ticket. A side of steamed broccoli with a squeeze of fresh lemon & freshly ground pepper completes the package. A family favorite I grew up with, thanks yet once again, to my fabulous chef-of -a-mom!

Size:

serves 4-6



Ingredients:
4 to 6 boneless chicken breasts
1 garlic clove, minced
2 tbsp of unsalted butter
1 (10 3/4 oz) can condensed cream of chicken soup
1 (8 oz) container of sour cream
1/2 cup (2 oz) shredded mozzarella cheese
1/4 cup white wine
2 tbsp grated Parmesan cheese
1 (6 oz) jar marinated artichoke hearts, drained and halved
Parsley for garnish
lb. pasta (I prefer a corkscrew or penne for this dish)



Directions:




Prepare macaroni/pasta according to package.

Meanwhile, melt butter in large pan. Add garlic and cook/stir until fragrant, approx, 1 minute.

Lightly salt and pepper each side of chicken breasts. Add to pan with garlic and sauté until browned, turning once.

As chicken browns, combine soup, sour cream, mozzarella cheese, wine and Parmesan cheese in medium bowl. Add to pan with chicken. Cover and cook approximately 5 to 7 minutes more until chicken is tender. Remove chicken to plate and keep warm (I tent and keep in lowest setting in oven).

Stir sauce and add artichokes. Cover and cook 1 to 2 minutes more.

Plate… pasta… chicken… sauce… sprinkle with parsley.