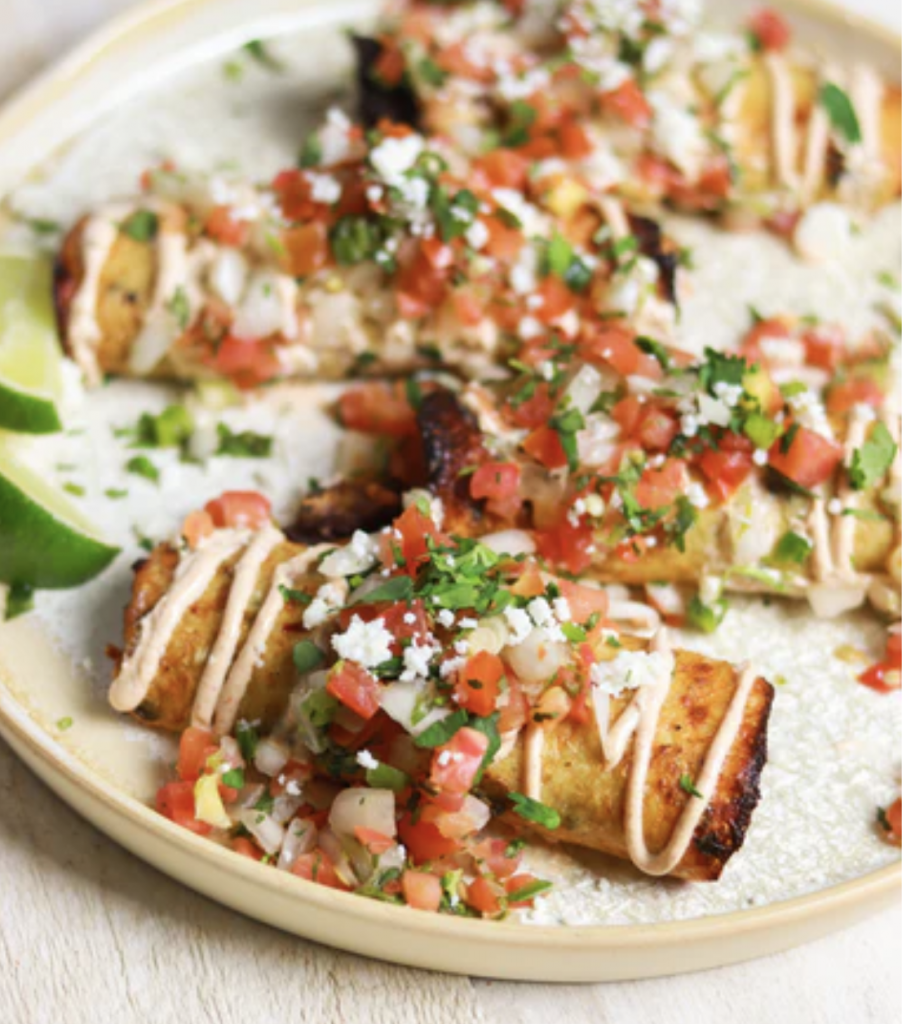 I love this gluten-free recipe from Califlour Crusts. My kids don't even notice that it is gluten-free! We often make these using leftover steak from the night before.
Also Read: Should You Go Gluten-Free?
INGREDIENTS
Spicy skirt steak taquitos:
4 Cai'flour Spicy Jalapeño Flatbreads
8 oz  Skirt steak
1⁄2 tsp  Sea salt
1⁄2 tsp  Cracked black pepper
1⁄2 tsp  Garlic powder
1⁄2 tsp  Smoked paprika
1 Tbsp  Chipotle peppers in adobo sauce (7.5 oz can)
4  Cali'flour Spicy Jalapeno Flatbreads
1⁄4 cup  Shredded Mozzarella or Oaxaca cheese
Non-stick cooking spray
1⁄2 cup  Fresh "Pico de gallo" salsa
2 Tbsp  Queso fresco or cotija cheese, crumbled
Smoky chipotle crema:
1⁄2 cup Sour cream
2 Tbsp sauce Chipotle peppers in adobo sauce (7.5 oz can)
1 Tbsp Fresh lime juice (from about 1⁄2 lime)
1⁄4 tsp Garlic powder
1⁄2 tsp Smoked paprika
INSTRUCTIONS
FOR THE STEAK TAQUITOS:
1. Take the flatbreads out of the freezer 30 to 60 minutes ahead of time to completely thaw and come to room temperature. Preheat the air fryer to 400°F (204°C).
2. Place the steak onto a cutting board or large plate. Season both sides of the steak evenly with salt, pepper, garlic powder, and smoked paprika. Then place
the steak onto the tray or basket of the air fryer, and let it cook for 10 minutes.
3. Once the steak is finished, set it aside on a cutting board or plate to rest for at least 3 minutes. Then, dice the steak into small 1⁄4-inch cubes. Drizzle
1 to 2 tablespoons of the adobo sauce over the steak, and toss the steak until evenly coated.
4. Place the four flatbreads on a cutting board or flat surface. Sprinkle about one tablespoon of shredded cheese on each flatbread, then spoon the diced steak evenly on top of each. Gently roll each flatbread into a "taquito" shape.
5. Place each taquito (fold-side down) onto the tray in the air fryer. Top the taquitos with a light mist of cooking spray. Set the air fryer to 325°F (162°C) and let them cook for about 10 minutes, or until golden brown. (Note, if you like
the taquitos extra crispy, add an extra 2 to 5 minutes in the air-fryer.)
6. While the taquitos cook, make the chipotle sauce (see below). Once cooked, serve them on a large plate, and top with the chipotle crema, pico de gallo, and
crumbled queso fresco.
FOR THE CHIPOTLE CREMA:
1. In a small mixing bowl, add the sour cream, adobo sauce, lime juice, garlic powder, and smoked paprika.
2. Stir the sauce together until completely mixed. You can spoon the sauce into a small bowl. For a perfect restaurant-style drizzle, add the sauce to a plastic squeeze bottle.
---
Going Gluten-Free: Cauliflower, Fig & Arugula Pizza