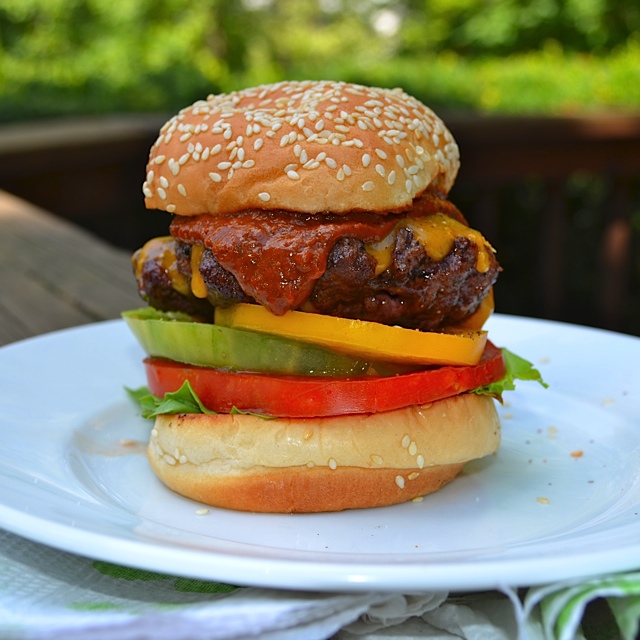 prepared by and photo by Emily Doscher

Super sauce, and makes a load.  Feel free to cut in half… or keep in frig for up to two months to put on future burgers, or maybe even meatloaf…

Size:

4 servings (sauce makes more)



Ingredients:
1 tbsp vegetable oil, plus more for brushing
1 onion, finely chopped
2 tbsp minced fresh ginger
2 garlic cloves, minced
1 cup tomato puree
2 tbsp ketchup
1 tbsp red wine vinegar
1 tbsp Worcestershire sauce
1 1/2 tbsp Dijon mustard
2 tbsp honey
2 tbsp molasses
3 tbsp pure ancho chile powder (Fairway Market)
1 canned chipotle in adobo, minced (International section of super market)
1/2 cup water
2 tbsp creamy peanut butter
Salt and freshly ground pepper
4 hamburger buns, split
1 1/2 lbs ground beef chuck
1/2 cup shredded cheddar (3 ozs)
1 scallion, finely chopped
Lettuce and tomato slices, for serving



Directions:




In a medium saucepan, heat the 1 tbsp of oil.  Add the onion and ginger and cook over moderate heat, stirring ocassionally, until softened, about 5-8 minutes.  Add the garlic and cook for 1 minute, stirring.  Add the tomato puree, ketchup, vinegar, Worchestershire sauce, mustard, honey, molasses, ancho chile powder, chipotle and water.  Bring to simmer and cook over low heat, stirring occasionally, until thickened, about 25-30 minutes.  Transfer the sauce to a blender.  Add the peanut butter and puree until smooth.  Season the barbecue sauce with salt and pepper.  (The barbecue sauce can be refrigerated for up to 2 months.)

Light a grill.  Brush the cut sides of the buns with oil and grill until toasted, about 30 seconds.  Spread some ot the barbecue sauce on the buns.

Form the meat into four 1″ thick patties and brush with oil.  Season with salt and pepper and grill over high heat, turning once, until nearly cooked through, about 5 minutes.  Brush the burgers with some of the sauce and grill until lightly glazed, about 2 minutes.  Top with the cheddar and scallion, close the grill and cook just until the cheese is completely melted, about 1 minute.  Set the burgers on the buns, top with lettuce and tomato and serve right away.