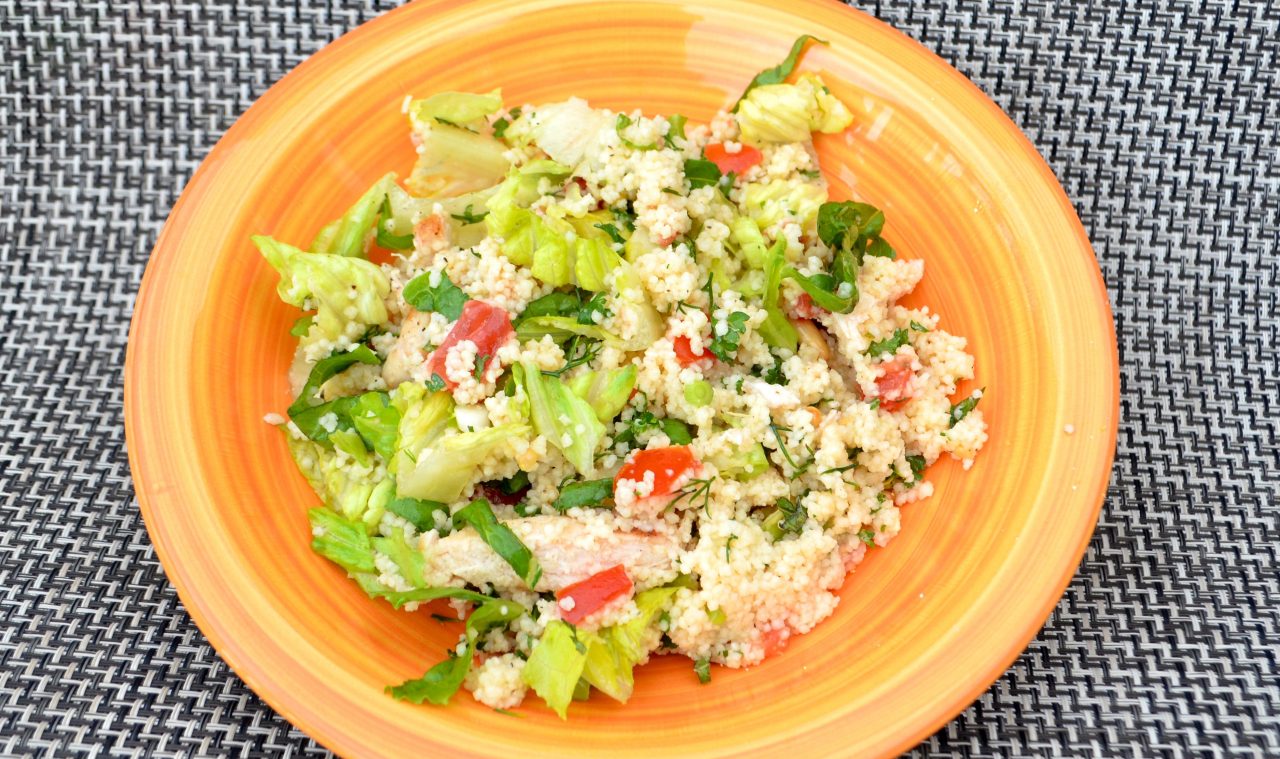 photo by Emily S. Downs

Thanks mom, for this tasty summer salad. I'm passing it on (with permission) to Tips, which she originally received from a friend. Super great for dinner, lunch, luncheon… you get the point.

Size:

6-8 servings



Ingredients:
COUSCOUS:
1 1/2 cup quick-cooking couscous (plain)
2 cups boiling water
SALAD:
2 cups skinned & boned, cooked chicken strips (grilled, baked, sautéed...)
2 cups lightly packed 1/2" crosswise sliced romaine lettuce
1 cup diced, cored, plum tomatoes (4-5)
1/2 cup fresh chopped parsley
1/3 cup thinly sliced scallions (4 or 5)
1/4 cup chopped fresh dill (or less)
2 tbsp finely chopped fresh mint (optional... times I've had it, it's worth it)
2 tbsp pine nuts
Salt & pepper to taste
DRESSING:
1/4 cup extra virgin olive oil
1/3 cup lemon juice (fresh)
1 tbsp cold water
1 garlic clove, crushed or thinly sliced (to be removed prior to serving)
1/2 tsp salt



Directions:




COUSCOUS: Place grains in large bowl. Add boiling water and stir to blend. Cover and let stand uncovered until cooled (approx. 20 minutes).

SALAD: Combine chicken, lettuce, tomatoes, parsley, scallions, dill and mint. Add to cooled couscous.

DRESSING: Combine olive oil, lemon juice, water, garlic and salt. Whisk until well blended in bowl. Remove garlic, add to salad and toss well. Add pine nuts and then salt and pepper to taste.