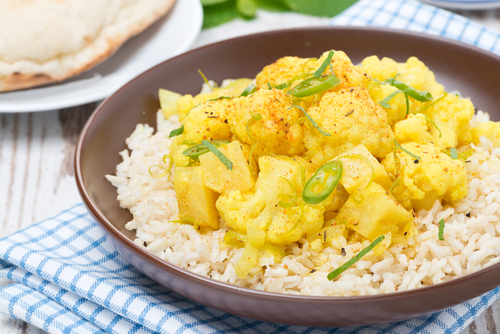 I had this version of chicken curry years ago at our recipe group and love it's simplicity. Never fails and warms the soul on these cold nights.

Size:

serves 10-15



Ingredients:
10-12 chicken breast, poached, cooled and pulled into pieces
1 stick butter
4-5 tbsp curry powder
8-10 shallots, chopped
3 Granny Smith apples, diced, skin or no skin (optional)
3-4 cups heavy cream
3-4 bananas, diced or sliced
3 cups chicken stock
2-3 tsp salt
2 tsp pepper
1/2 tsp cayenne pepper (more or less to taste)
Juice of 1-2 lemons
1 can of coconut milk
Jasmine rice
Chutney, shredded coconut, mint, chopped peanuts (optional garnishes)



Directions:




Melt butter in large sauté pan or pot. When butter melts, add curry powder, cook a minute, add shallots, cook a few minutes. Add apples, cook a few more minutes. Now add cream, cook about 20 minutes letting the cream cook at a gentle bubble. Add bananas. Season with salt, pepper, and cayenne. Add 3 cups of chicken stock. Add lemon juice and 1/2 can of coconut milk. Taste and adjust (add more salt, cream, stock, coconut milk or pepper).

Add chicken and keep at low temperature until ready to serve. The longer it sits, the better it is. Should be juicy. Can be made well ahead and/or frozen.

Serve with toppings… chutney, shredded coconut, mint and chopped peanuts if desired.