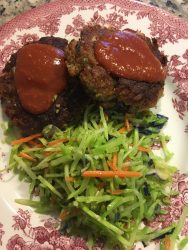 Frozen crabcakes can give you that "quick fix" at home in the warmer months for the immediate taste of summer, but making them fresh will definitely make them go "WOW"!  It isn't as difficult as you may think too – I have done this from memory for a very long time, so I will put my "recipe" here and hope that my vague instructions will yield you the yummy crab cakes that my family has been so fond of for years.
Chop one medium sized onion and five cloves of garlic
Add One celery stalk  and a half of green pepper diced – and saute until soft to the touch
In a large mixing bowl add approx. 2 cups of Italian flavored Breadcrumbs
Add 3/4 pound of FRESH lump crabmeat and two eggs
Dash of salt, pepper, parsley and oregano
Tablespoon of dry mustard
Few dollops of mayo
Mix it all together and form into little patties
Heat skillet over medium heat w/ vegetable oil and fry each patty approx. 5 minutes on each side.  ( I prefer it when there is a nice, crunchy outside to my cake and a moist inside)
Dry on paper towels, spritz with lemon and serve w/ either tartar or cocktail sauce
I would not suggest using canned crabmeat because more often than not there will be a "tinny"  taste of "iodine" – splurge on the true, legit lump crabmeat because YOUR FAMILY IS WORTH IT!