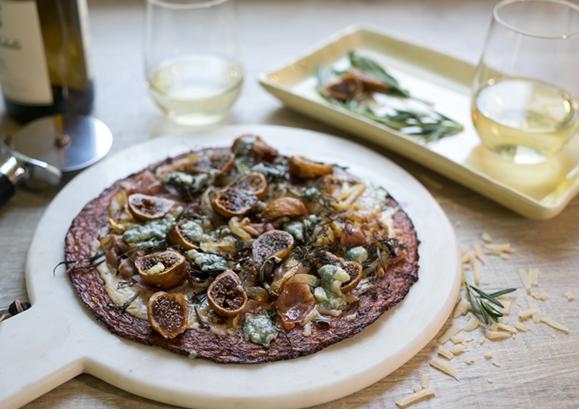 A delicious, gluten-free pizza recipe using Cali'Flour pizza crust which are made
from cauliflower and don't contain any GMOs and are corn-free, and soy-free.
Ingredients:
½ sweet white onion
2 slices of prosciutto
2 figs
¼ cup parmesan
½ sprig rosemary
½ sprig thyme
½ sprig sage
3 Tbsp blue cheese crumbles
1 Tbsp Olive oil
1 Tbsp feta dressing or white sauce of your choice
Preheat oven to 350ºF. Cover baking sheet with parchment paper (not wax paper)
Or using a pizza stone
Directions:
Bake your Cali'Red Pepper pizza crust for 5 minutes with no toppings. While your pizza crust is baking, begin to caramelize onions. Chop sweet white onion, using olive oil in a pan, sauté onions until soft and golden. Remove pizza crust from oven
Apply feta dressing (or white sauce of choice) evenly to pizza crust. Sprinkle parmesan. Slice and place prosciutto. Disburse sautéed onions. Slice figs into small pieces and place throughout.Combine seasonings of fresh rosemary, thyme, and sage.
Sprinkle seasonings. Disburse blue cheese crumbles. Bake at 350ºF for 12-14 minutes.
 **Let cool for 5 minutes prior to slicing and enjoy!