I love this recipe for a quick, delicious bolognese sauce. You can throw in any veggies and any chopped meat you like. I used carrots, celery and zucchini this time because that is what I had in the house. I used chopped turkey because I'm trying to serve less red meat, and it marries great with all the other flavors. I made this before I left on a college visit, and it lasted those I left behind for two dinners. Larry said they all really loved it. It would be great with garlic bread and a nice pinot noir.
If you have a family of 5 or less, you can probably get away with 1/2 this recipe. I fed six and had plenty of leftovers for another meal.
Time: 20-30 minutes
Cost: less than $25 (remember, you should get 2 meals out of this quantity)
Ingredients:
– 2 lb ground turkey … $6.00
– 1 1/2 cups chopped onion (about 2 medium onions) … $1.60
– 5 large garlic cloves (more to your taste) … $.25
– 1 cup chopped carrots … $1.50
– 1 cup chopped celery (about 5 stalks) … $1.00
– 1 large or 2 small zucchini chopped … $3.00
– 2 tablespoons olive oil
– 1 28 oz can of chopped tomatoes (Tuttoroso) … $1.30
– 1 28 oz can of peeled plum tomatoes  (Tuttoroso) … $1.30
– 2 lb pasta of your choice, I like Barilla gemelli with bolognese sauce … $3.00 Or you can use gluten free pasta, I use a chick pea one that is packed with protien
– shaved parmesan cheese $5.00
– few dashes of Adobo seasoning
– salt and pepper to taste
1
Boil and salt water for pasta.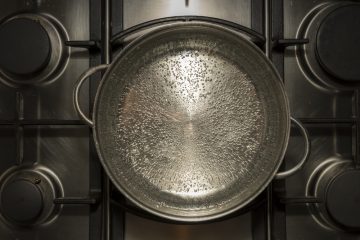 2
Saute the onion and garlic in the olive oil for 2 minutes. Meanwhile, chop the carrots and celery.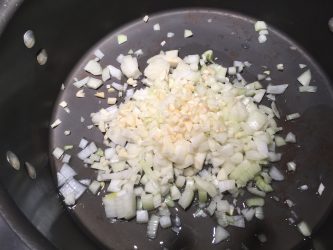 3
Add the turkey, and sauce over medium heat for 4 minutes.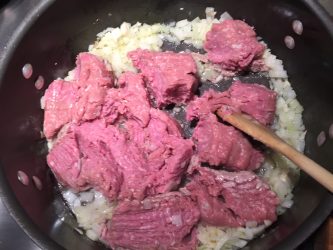 4
Add the carrots and celery and cook for 1-2 minutes.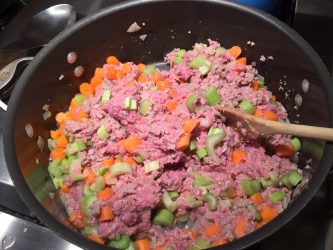 5
Add the zucchini, cook for 1 minute while opening your cans of tomato.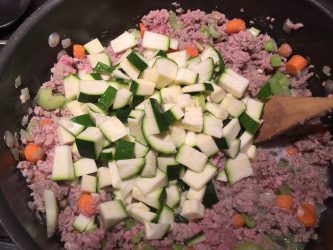 6
Add both cans of tomato, chopping up the whole tomatoes with your wooden spoon. You can use 2 cans of chopped tomato, but I like the texture you get from the bigger tomatoes.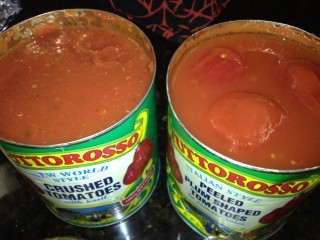 7
Add pasta to your boiling water.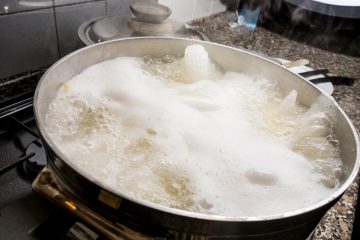 8
Sprinkle some Adobo seasoning, cook for about 10 minutes. Salt and pepper to taste.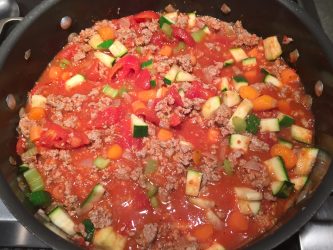 9
Drain pasta when done and add to sauce.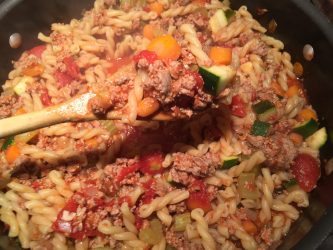 10
Serve with shaved parmesan cheese and crushed red pepper for those who like a little spice.
Tip: Make extra sauce, freeze it without the pasta. Defrost in fridge and add to fresh pasta for a quick, easy meal.