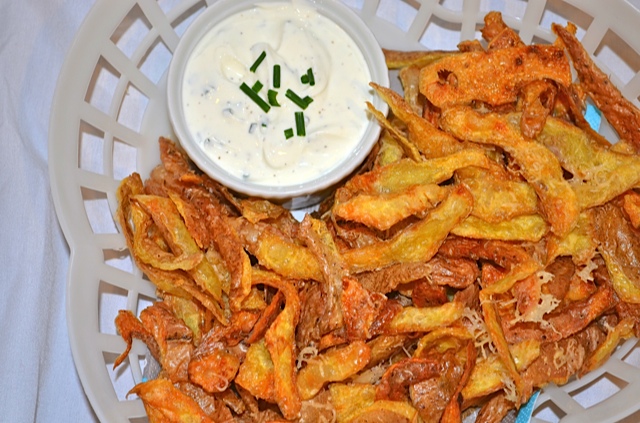 prepared by and photo by Emily Doscher

This is by far the best idea of what to do with those pesky potato skins… (especially if you need the potato "meat" for preparing Potatoes w/Bacon & Onions.)  Not your average potato chip.

Size:

4 servings



Ingredients:
3 cups canola oil
Thick peelings from 3 lbs of Yukon gold or russet potatoes (roughly 1-by-3" strips)
Kosther salt
2 tbsp freshly grated cheese
1/2 cup low-fat sour cream
2 tbsp snipped chives
Freshly ground pepper



Directions:




Preheat the oven to 350F.  In a large saucepan over moderately high heat, heat the oil to 360F.  Fry the potato skins in batches, stirring occasionally, until browned and crisp 3-5 minutes per batch.  Using a slotted spoon, transfer each batch of potato strips to paper towels to drain, then sprinkle with salt immediately.

Transfer the potato strips to a baking sheet and sprinkle them with the grated Parmigiano-Reggiano.  Bake for 3-4 minutes, just until the cheese is melted.  Let the crisps cool, then transfer to a bowl.

In a blender or processor, puree the sour cream with the chives and a pinch of salt and pepper until the chives are finely chopped.  Transfer the dip to a bowl and serve alongside the potato crisps.