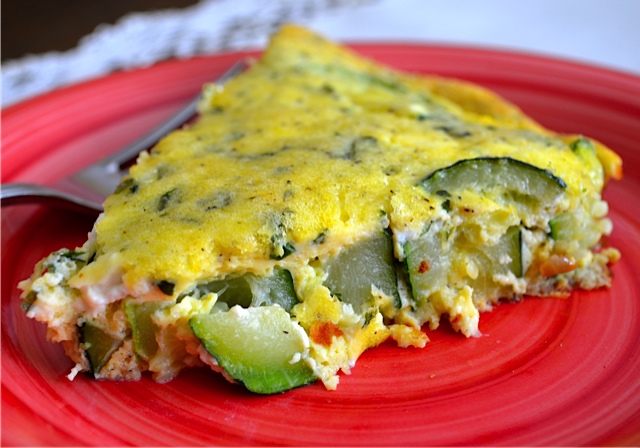 prepared by and photo by Emily S. Downs

Sauteed Zucchini and onions fill a creamy cheesy herbal crustless quiche… fritatta… omelet. I used a 10″ pan, but I recommend using an 8″ for a fluffier omelet. One of those foods that tastes good for breakfast, brunch, lunch or dinner.

Size:

serves 4-6



Ingredients:
8 large eggs
1/2 cup heavy cream
3 tbsp chopped fresh basil
3.5 oz creamy goat cheese, crumbled
1/3 cup freshly grated Parmesan (3/4 oz)
3 cups Sauteed Zucchini (recipe link above & below)
1 tsp salt
1/4 tsp freshly ground pepper
1 tbsp unsalted butter
1/2 yellow onion, cut in 1/2" dice



Directions:




Preheat oven to 350F in a bowl, whisk eggs, and cream. Add basil, both cheeses, zucchini, salt, and pepper; stir until well combined; set aside.

Heat butter in an ovenproof 8″ omelet pan or skillet on medium low. Add onion; cook until softened, 3 to 5 minutes. Pour egg mixture into pan; cook, pulling back edges with a spatula, until omelet is just set, about 10 minutes (center will be slightly runny). Place pan in oven; bake until center is just firm, about 30 minutes. Serve.