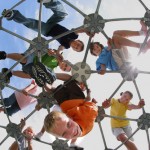 No school? No worries. There's plenty to do right in the tri-state area. Take your kids on a day trip. You might not have time to see these exhibits normally, so a staycation is a great opportunity to get some culture. It will be a lot of fun and great education for the whole family.
MUSEUMS AND DAY TRIPS
The Children's Museum of the Arts is a hands on art museum dedicated to engaging young artists in innovative programming, workshops, and self guided art exploration. Read on for all you can see and do with your family during your visit. A 2,000 sq. foot Gallery, a state of the art Media Lab & Sound Booth, Clay Bar, Fine Art Studio, Lofted Ball Pond and Slide, and a WEE Arts Studio (dedicated to young artists ages 1 to 5). Children's Museum of the Arts, 103 Charlton Street, NYC 10014. 212.274.0986
School House Museum's exhibit, The Ridgewood NJ Historical Society and Schoolhouse Museum are pleased to announce the opening of our new exhibit, Hemlines. The exhibit will be open to the public from March 12 through July 26. Hemlines is a look at women's fashions from 1900 to 1969 and features hats, shoes, handbags, jewelry, wedding attire and fabulous dresses.The Schoolhouse Museum is open on Thursdays and Saturdays from 1:00–3:00 p.m. and Sundays from 2:00–4:00 p.m. 650 East Glen Avenue, Ridgewood, N.J 201-447-3242
6 Flags Great Adventure opening Weekend 2015 is from April 3-5, 2015. At Six Flags Great Adventure & Safari you can take a trip on the world's tallest coaster, Kingda Ka, plunge on the world's tallest and fastest drop tower, Zumanjaro: Drop of Doom, tame the beast on El Toro, the world's #1 wooden roller coaster. There's fun for the family too on SkyScreamer, Runaway Mine Train, Fender Benders and more – plus three children's areas. Don't forget to take a trip on Safari Off Road Adventure to experience 1,200 animals from six continents, learn some new facts and even interact with them at Camp Aventura when you stop midway. 1 Six Flags Blvd., Jackson, NJ 08527
Garden State Discovery Museum is a celebration of imagination for children ages infant through 10 years old. Located in south Jersey, bring your children to explore science, get down and dirty making arts and crafts, be the hero of their own story, or bear the honor of wearing the chef's coat for a day. Located just outside of Philadelphia in Cherry Hill, NJ. Enjoy over 20 giant kid-powered exhibits and get your hands on the fun.
Cooper Hewitt Museum recent renovation now offers you an entirely new and invigorated experience, with interactive, immersive creative technologies and more gallery space to explore. In the dynamic and interactive Process Lab, visitors can brainstorm design solutions through hands-on and digital activities. The gallery emphasizes how design is a way of thinking, planning, and problem solving, and provides a foundation for the rest of the design concepts on view in the museum. Check out their Family Programs Calendar. 2 East 91st Street  

212.849.8400

Brooklyn Bowl – A true hipster haven with 16 lanes of bowling, live concerts and great eats like challah French toast and fried chicken by Blue Ribbon. Brooklyn Bowl is open to all ages on Saturdays and Sundays from noon until 6:00 pm. All other times are 21+ with valid identification. 61 Wythe Avenue between North 11th and North 12th Streets.(718) 460-8001?. (On your way out, grab a drink across the street at the trendy Wythe Hotel  – 80 Wythe Ave) 
Adventure Aquarium in Camden, NJ is where kids can slither and slide their way through a massive Banyan tree with suspended foam "roots," or climb aboard to captain an interactive river boat.  The voyage continues at Bobbi's Beach, where kids can scale rocky shores and pose for photos with Bobbi the Penguin on her favorite surfboard. Don't miss the "pet a stingray tank", my kids loved that area. 2040 Springdale Road Suite 100 Cherry Hill, New Jersey
Sony Wonder Technology Lab is a FREE technology and entertainment museum for all ages. Explore exciting interactive exhibits in a dynamic, state-of-the-art facility that brings technology and creativity together to make learning experiential, entertaining and fun. Located in mid-town Manhattan, SWTL inspires creativity in a high-quality, engaging and family-friendly learning environment. 550 Madison Ave, Sony Plaza (at 56th St) Midtown East. (212) 833-8100.
Philadelphia Zoo America's first zoo (it was founded in 1859!) offers a unique, kid-friendly look at wildlife conservation. Animals at the Philadelphia Zoo are on the move like never before. With the new animal exploration trail experience called Zoo360, a campus-wide network of see-through mesh trails affords more opportunities for animals to roam around and above Zoo grounds. 3400 W Girard Ave, Philadelphia, PA.
NYC Fire House Museum displays illustrate the evolution of firefighting from the bucket brigades through the colorful history of volunteer firefighters to modern firefighting techniques and equipment. The Museum also houses a special memorial to the 343 members of the FDNY who made the Supreme Sacrifice on 9/11 and features a number of firefighting artifacts recovered from the World Trade Center site. A video room and a mock apartment with an artificial smoke machine and black-lighted fire hazards are used in the museum's fire education program for school children ages K through 12. 278 Spring Street, NYC 212.691.1303.