My mother is a fantastic baker. We usually have 2 or 3 cakes to choose from at family celebrations. She tries lots of recipes, and we each have our favorites. There's nothing sweeter than time spent together sharing food. Here are some of my mother's tried and true cake recipes.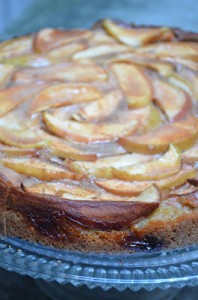 Sue Weinstein's German Apple Cake is a simple but elegant cake that comes together quickly. The base of the cake is a subtly sweet and spiced crust, which perfectly encases the softened apples. This recipe came from my mom's binder of recipes. The original recipe suggests you use the food processor to make the cake, but this can easily be made the old fashioned way (by using a bowl and a wooden spoon!)
Sue Weinstein's German Apple Cake
Cake Batter
¾ cup sugar
1 cup all purpose flour
4 tablespoons butter, cut into 4 pieces
1 teaspoon baking powder
1 large egg
1 teaspoon cinnamon
½ teaspoon ground ginger
4 large apples (I used a combination of several types)
Cinnamon/Ginger Topping
3 tablespoons sugar
3 tablespoons melted butter
3 teaspoons ground cinnamon
1 teaspoon ground ginger
1 large egg
Preheat the oven to 350 degrees. Butter well a 9-inch springform pan; set aside. In a food processor fitted with the metal blade, place all the cake batter ingredients except the apples. Process until the mixture resembles coarse meal. Spread evenly on the bottom of the prepared springform pan.
Peel and seed the apples. Slice apples into 1/6 inch slices (uniformly thin). Arrange the slices in layers on top of the crumb mixture. Bake in the center of the oven for 45 minutes.
Meanwhile, combine the remaining topping ingredients in the good processor fitted with the same metal blade. Process until smooth. Remove cake from the oven after 45 minutes and spoon the topping mixture over the apples. Return to oven and bake 25 to 30 minutes or until the top is firm and lightly browned.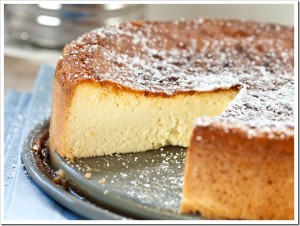 Italian Ricotta Cheesecake is our favorite kind of cheesecake. This recipe from stickygooeycreamychewy.com is just like the one my mom makes.  It is smooth and rich, and yet lighter in texture than you would think. The orange flavoring and mascarpone are a great combination.
Italian Ricotta Cheesecake
Ingredients:
1 teaspoon softened butter
1/2 cup finely crushed amaretti cookies (optional)
2 pounds ricotta cheese
1 pound mascarpone cheese
1 1/2 cups granulated sugar
6 large eggs
2 egg yolks
2 tablespoons fresh orange zest
1/4 cup heavy cream
2 teaspoons pure vanilla extract
1 tablespoon orange flower water
Powdered sugar, for dusting
Directions:
Preheat the oven to 325 F.
Drain the ricotta in a colander lined with cheesecloth set over a bowl for about 30 minutes to an hour. This drains out the excess liquid in it, making for a denser cake.
Butter a 9-inch springform pan. Coat pan with crushed amaretti, if using, swirling it around to get an even coating. Pour out any excess crumbs. Place prepared pan on a baking sheet.
Using an electric mixer, beat the ricotta, mascarpone and sugar together until smooth. With the mixer on medium-low, add the eggs, orange zest, cream, vanilla and orange flower water and mix until completely homogenized.
Pour batter into the prepared springform pan and bake for 1½ hours. Turn off the oven and let the cake rest inside for 30 minutes.
Remove cake from the oven and let cool to room temperature on a wire rack. Run a sharp knife around the perimeter of the cake to loosen it and unmold. Chill the cheesecake in the fridge for several hours or overnight.
Serve with a dusting of powdered sugar.
Hummingbird Cake is delicious beyond belief, it's exceptionally easy to make, with a batter that requires just one bowl and a little stirring and a cream cheese frosting that comes together quickly in the mixer. Since Hummingbird Cake stays moist and fresh for days, it's a perfect cake to make ahead. This recipe is from Ezra Pound Cake.
3 cups all-purpose flour
2 cups sugar
1 teaspoon baking soda
1 teaspoon ground cinnamon
1 teaspoon salt
3 eggs, beaten
1 1/2 cups vegetable oil
1 1/2 teaspoons vanilla extract
1 (8-ounce) can crushed pineapple, undrained
2 cups chopped pecans, divided
2 chopped bananas
Cream Cheese Frosting (recipe below)
Preheat the oven to 350 degrees F. Grease and flour three 9-inch cake pans, or spray them with a nonstick spray.
In a large bowl, combine flour, sugar, baking soda, cinnamon and salt. Add eggs, oil and vanilla; stir just until dry ingredients are moistened.
Stir in pineapple, 1 cup chopped pecans and bananas.
Spoon batter into prepared cake pans. Bake 25 to 30 minutes. Remove from pans, and cool immediately. When the cakes are completely cooled, spread frosting between layers and on top and sides of cake. Sprinkle with 1 cup chopped pecans.
Cream Cheese Frosting
2 (8-ounce) packages cream cheese, room temperature
1 cup (2 sticks) butter, softened
2 pounds powdered sugar
2 teaspoons vanilla extract
In a standing mixer fitted with a paddle attachment, combine cream cheese and butter; cream until smooth. Add powdered sugar, beating until light and fluffy. Stir in vanilla.