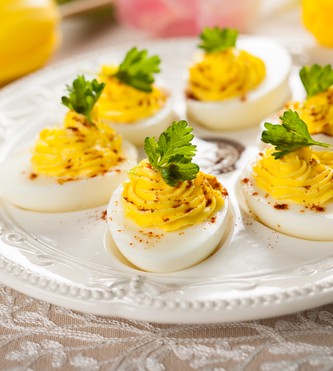 An American classic… from sea to shining sea.

Size:

serves 4



Ingredients:
4 hard-boiled eggs
3 tbsp mayonnaise
1 tsp Dijon mustard
Salt & Pepper
1 tbsp minced parsley, fresh herbs or paprika (for garnish)



Directions:




Shell the eggs and slice them in half lengthwise.  Remove the yolks and mash them with the mayonnaise, mustard, and salt and pepper to taste until it is smoothly blended and creamy.  Stuff equal amounts into the hollow of each egg white.  Sprinkle parsley, fresh herbs or paprika on top.