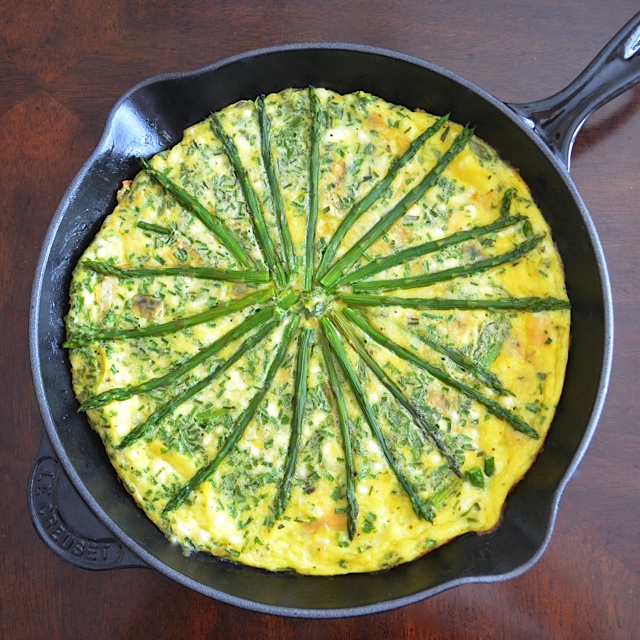 prepared by and photo by Emily S. Downs

Give this tasty frittata a go. It's stuffed with asparagus, creamy goat cheese, fresh herbs and of course eggs. Serve for breakfast, brunch, lunch and/or dinner.

Size:

serves 8



Ingredients:
12 eggs
3 tbsp finely chopped fresh chives
1/4 tsp finely chopped fresh tarragon
2 tbs finely chopped fresh chervil (sub w/parsley if needed)
2 oz prosciutto, cut into 1/4" strips
1/2 tsp salt, plus more, to taste
Freshly ground pepper, to taste
6 oz goat cheese, crumbled
1-1 1/2 lbs asparagus, tough ends trimmed, spears steamed until just tender and cooled
3 tbsp unsalted butter
1 leek, thinly sliced and rinsed well



Directions:




In bowl, whisk eggs, chives, tarragon chervil, prosciutto, 1/2 teaspoon salt and pepper. Stir in 4 ounces cheese. Cut enough asparagus ends into 1/4″ lengths to measure 3/4 cup; add to egg mixture.

In deep half of frittata pan* over medium heat, melt 1 tablespoon butter. Add leek and salt; cook 8 minutes. Transfer to egg mixture. Set pan over medium heat; melt 1 tablespoon butter. Add egg mixture; cook, scraping sides and bottom of pan with rubber spatula to allow uncooked eggs to flow underneath, 3-4 minutes. Cover with shallow pan; cook 6-8 minutes more. Remove from heat; arrange remaining asparagus spears on frittata in spoke formation. Meanwhile, set shallow pan over medium heat; melt 1 tablespoons butter.

Place shallow pan upside down on top of deep pan; flip frittata into shallow pan. Cook, covered, 10-12 minutes. Flip frittata back into deep pan; slide onto serving plate. Let stand 5 minutes. Top with remaining cheese.

* Okay… I don't have a "frittata pan," so I used a non-stick cast iron pan… cooked on the stovetop as instructed… but rather than flip into frittata pan, I cooked in the oven on 375F for about 10 minutes longer… wa la!