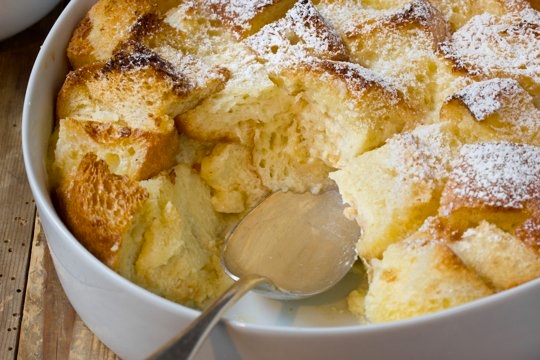 thekitchn.com

The only time I can think of having eggnog is around the holiday season. Makes for a great additive to this bread pudding. Especially for a breakfast or brunch treat. Splurge a little… you undoubtedly deserve it.

Size:

8-10 servings



Ingredients:
1 (12 oz) loaf French bread, sliced
4 oz unsalted butter, room temperature
3 cups eggnog
2 cups whole or 2% milk
5 large eggs
4 egg yolks
1 cup sugar
Pinch salt
2 tbsp bourbon (or 1 tsp pure vanilla extract)
Confectioners' sugar and warm maple syrup, for serving



Directions:




Generously butter the bread slices. Cut the buttered slices into 1″ cubes and pile into a 2 quart baking dish.

Heat the eggnog and milk in a large saucepan over medium heat until bubbling gently but not boiling.

Meanwhile, combine the eggs, egg yolks, sugar, and salt in a large mixing bowl and whisk vigorously until light and frothy. Whisk one cup of the eggnog mixture into the eggs to warm them. Gradually whisk in the remaining eggnog mixture and the bourbon.

Pour the custard over the bread cubes, and gently mash down with your hands to make sure all of the bread gets saturated. Set aside for a minimum of one hour or chill overnight in the refrigerator.

Preheat the oven to 375F. Bring a large pot of water to a boil (or alternately heat in the microwave in a microwave-safe measuring cup). Place the casserole dish inside of a large roasting pan and transfer to the oven. Carefully pour the boiling water into the roasting pan, so that it comes halfway up the sides of the baking dish.

Bake for approximately 45 to 50 minutes, until the custard is set and the top is light golden brown. Remove the roasting pan from the oven, then carefully lift the casserole dish out of the water. Allow to cool for 5 to 10 minutes before serving (although it is equally good at room temperature).