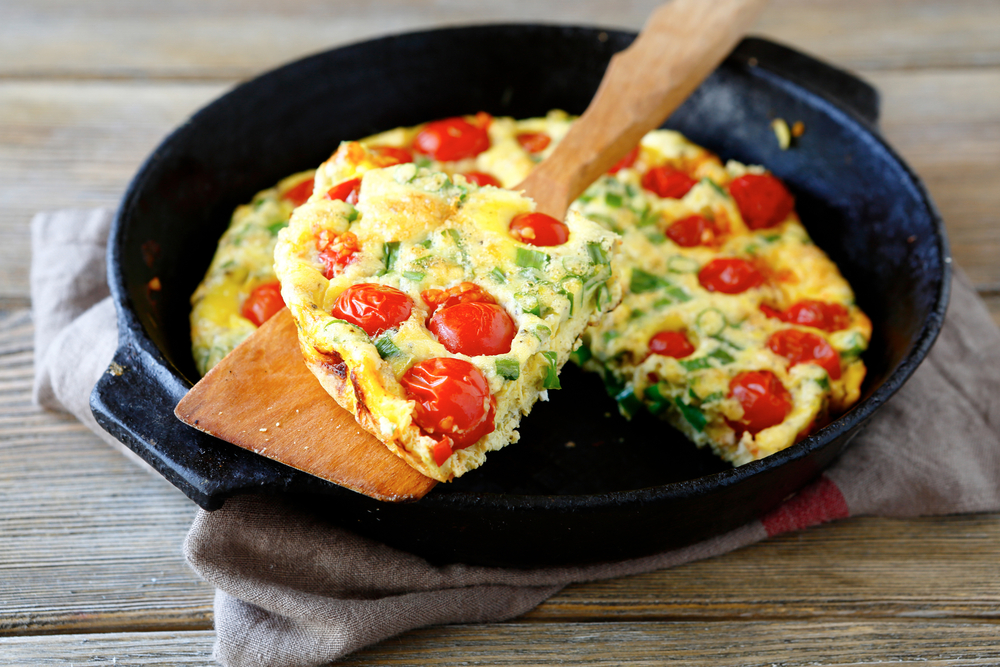 Nothing like a thirty minute meal. Our lives are pretty much a race. Driving here. Driving there. Barely any time to relax, let alone eat. So in-between practices, homework, doctor appointments and playdates, take a half hour to prep a filling family-friendly frittata. Don't forget a side salad or maybe even a bit of Rotisserie chicken to serve along with it.

Size:

serves 6



Ingredients:
1 cup grape tomatoes, halved
8 large eggs
1/4 cup half & half
1/2 tsp salt
1/4 tsp freshly ground black pepper
2 tbsp butter
1 cup packed fresh spinach, chopped
1/4 cup (2 oz) shredded fontina cheese
2 tbsp fresh dill, chopped
6 tbsp fresh chopped basil, divided
4 oz goat cheese



Directions:




Preheat broiler. Arrange tomatoes, cut sides up, on a rimmed, aluminum foil-lined baking sheet. Broil 4 inches from heat 5 minutes. remove from oven; let cool slightly.

Whisk together eggs, half & half, salt, and pepper in a large mixing bowl.

Heat butter in an ovenproof 10″ skillet over medium heat. Add spinach; cook about 30 seconds or until spinach barely begins to wilt. Pour in egg mixture. Sprinkle with fontina, dill, and 4 tablespoons basil; stir gently with a fork.

Arrange tomatoes, cut sides down, over egg mixture; press down gently with the back of a spatula. Crumble goat cheese even over the frittata. Reduce heat to medium-low, and cook about 6 minutes or until frittata is almost set but still runny on top.

Broil 6″ from heat 2 minutes or until completely set and golden brown. Remove from oven, and let stand 2 to 3 minutes. Sprinkle with remaining 2 tablespoons basil. Cut into wedges and serve.