This quiche is best the day it's baked, but still tasty the day after. Takes a bit of time to prepare but I found it worthy enough and delicious enough to pass onto our Tips fans. Perfect for brunch, lunch or light dinner along with a mixed green salad. (recipe from thekitchn.com)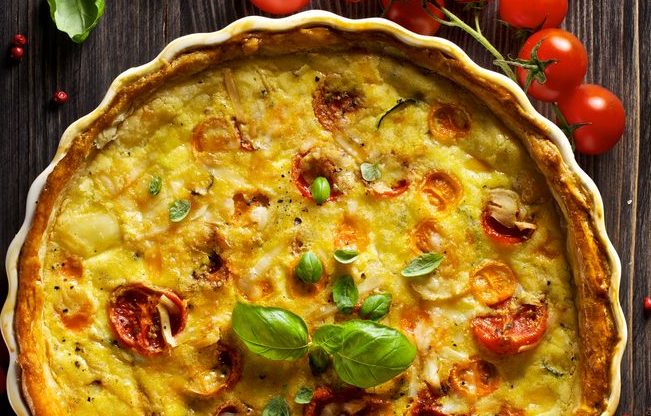 Size:

6-8 servings



Ingredients:
1 9" pie crust (store bought works fine)
8 oz cherry tomatoes
2 tsp olive oil
1/4 tsp salt
6 large eggs
1 3/4 cup whole milk
3/4 cup heavy cream
3/4 tsp salt
1/4 cup basil chiffonade (cut into thin strips)
1/4 cup Parmesan cheese, finely grated
4 oz goat cheese



Directions:




Roll out pie crust and fit into a 10 x 1″ quiche pan. Trim away overhang and reserve for patching any cracks during baking. Freeze crust for at least 30 minutes and up to 3 months ahead. (Wrap securely with plastic if freezing for longer than a few hours.)

Preheat oven to 350F. In a bowl, toss the tomatoes with the olive oil and 1/4 teaspoon salt. Spread onto a parchment-lined baking sheet and bake for 10-15 minutes, until the tomatoes are puffy and lightly browned. (Can be made up to 3 days ahead. Store in a covered container in the refrigerator.)

Raise oven heat to 425F. Remove crust from freezer and line with parchment paper. Fill with pie weights, beans or rice, pushing weights snugly against the sides of the pan. Bake for 20 minutes and remove parchment and weights (My crust took 15 mins). If the crust has puffed up in spots, lightly press down with the back of a spoon. Bake for another 10-15 minutes (10 mins for mine), until the bottom crust is light golden brown. Lower oven heat to 375F.

Meanwhile, in a large bowl whisk together the eggs, milk, cream and 3/4 teaspoon salt until frothy. Mix in the basil and half the Parmesan cheese. Scatter half the tomatoes and half the goat cheese, crumbled, over the bottom of the quiche pan. Pour in the egg custard. (You may have a little custard left over, depending on how much the sides of your dough slumped during baking.) Scatter the remaining tomatoes and crumble the remaining goat cheese around the custard. Scatter the remaining Parmesan cheese evenly over the top.

Bake for 45-50 minutes, or until the center is set, but still a little jiggly. If the crust starts to brown too much during baking, wrap foil around the edges of the pan to protect it. Let quiche cool for at least 10 minutes before serving.

If quiche cools too much before ready to serve, reheat in a 300F oven until warm to the touch.

Calling All Ice-Cream Fanatics! Try Our Waffle Ice Cream Sandwich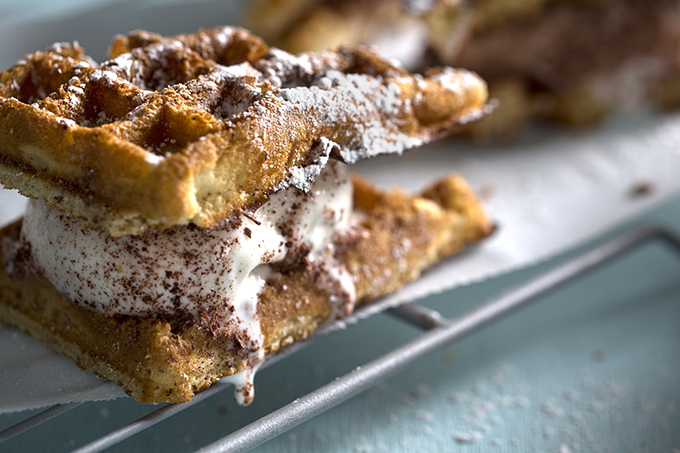 ---
Fish So Good…You Won't Even Realize How Healthy it is:
Zesty Creole Cod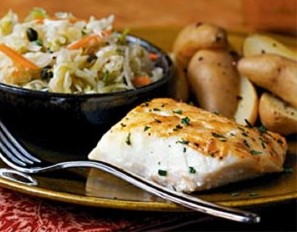 ---
Something Comforting, But Not Too Heavy:
Pork Sage Meatballs.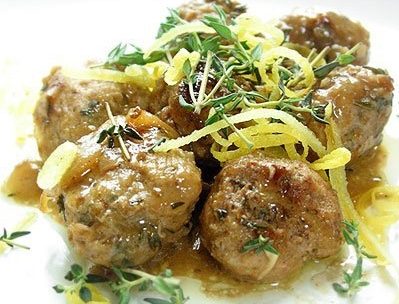 ---
3 Exercises That You Can Do…ANYWHERE!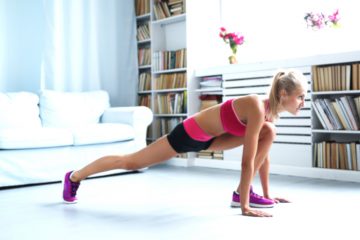 ---
A Tiny Little Seed That Packs a Big Punch of Nutrition.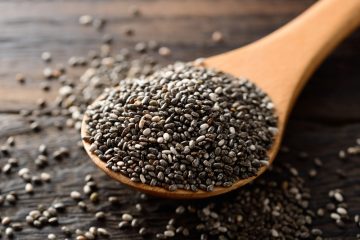 ---
This Vitamin Made a Huge Difference for my Hair.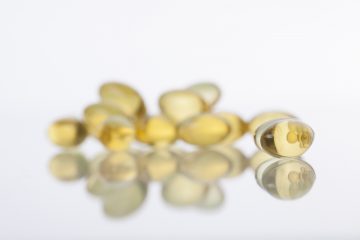 ---
Emily's Luscious Lemon Squares: 
That Perfect Balance of Sweet and Tart.