I am changing my holiday tune this year. Normally, when I see the Christmas decorations out next to the Halloween costumes, I get angry.  Why are they shoving red and green down my throat when I am still on orange and black? Call me crazy, but I usually like to enjoy one holiday at a time. This year, my three year old, out of nowhere, said to me, "Mom, don't let the holidays sneak up on you." Since it may be the smartest thing he's ever said, (I have since realized he got it from a commercial, so it really is preschool on TV) I've decided to heed his advice.
I already started making my list, and I will probably check it twice before the turkey even goes in the oven on Thanksgiving. My plan is to shop and wrap as early as possible to actually make room for some cheer, something my busy December has been lacking in recent years.
In addition to shopping, I am also going to start the giving. Christmas is a season, not a day. Santa may come on December 24th, but you don't have to let the big guy set your timeline. After all, it's been years since he did anything for you.
Here are some gifts that you should give toward the beginning of December.
FOR KIDS
Christmas PJs – Our family tradition is to give the kids new Christmas pajamas on Thanksgiving night. They may be slightly worn by December 25, but the kids love wearing them through the season, and it helps all of us get in the spirit. What screams festive more than red feet pajamas? Personalized or not, they are sure to make the kids on your list feel special.
Advent Calendars – The anticipation of Christmas is often more fun than the actual day. Make the tradition of getting a favorite kid in your life a new advent calendar each year. Even though there are great calendars which can be reused each year, like this fun pillow calendar from Pottery Barn, my kids love getting their own, new, kid-friendly one.
Bookstores and card stores carry a wide assortment. Beware of the chocolate filled ones. The chocolate inevitably tastes like dust.
Holiday Sheets – Let them cuddle up in some fun flannel all month long. Moose, anyone? These sheets from Garnet Hill Kids are perfect for the holidays and can stay on their bed all winter season.
Now they can stop dreaming of a White Christmas and start enjoying one.
We have already had hours of fun with these fake snowballs we purchased at Learning Express.
FOR THE HOSTESS
Instead of waiting until the party or Christmas day to bring your gift, send something early and let them enjoy it all season.
A Fresh Wreath
You can send the traditional wreath, or opt for something a little more unique like this one from the Magnolia Company.
A Fun Wooden Sign
A friend just gave me this little wooden sign. I love it, as she knew I would, and while it may be the only thing on display right now, it screams Christmas fun and is putting me in the spirit. I am so glad she didn't wait until the 25th.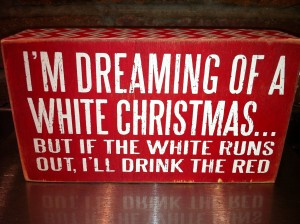 Personalized Wine Tags or Bottle bags
Why not make it easier for a great hostess to give her own hostess gift?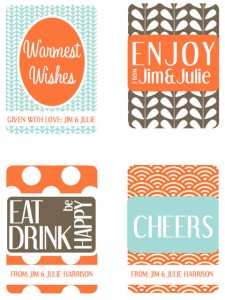 A Holiday DVD of It's a Wonderful Life or Miracle on 34th Street – I watch It's a Wonderful Life with my husband and kids every year, and every year, they all laugh at me because I cry like a baby when Clarence gets his wings. It's a tradition.
FOR WINTER LOVERS
I adore this Let it Snow sign and pillow, both from Pottery Barn.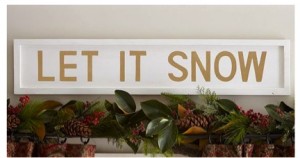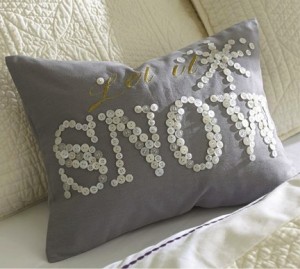 S'mores anyone?
Wrap up these telescoping, rotating roasting forks with some Hershey bars and marshmallows and let the fun begin.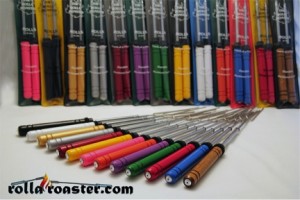 Festive Throws
While roasting their marshmallows or curling up with a holiday movie, your friends and family may need to keep warm. Beautiful over the couch or for cuddling with the kids, Barnes and Noble has these beautiful throws for sale.
For newlyweds or new home owners
Hit HomeGoods or a Christmas store and make up a basket of classic decorations to get them started. West Elm has lots of neutral holiday décor to fit in any home, old or new.
A personalized holiday return address stamper. Give them a gift which will make their card giving simpler and will make them think of you each year.
There are many different styles, but I'm partial to the tree.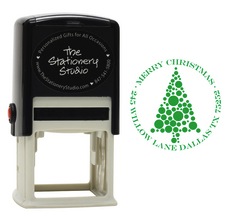 Christmas glasses for entertaining. When I was first married, breaking out holiday glasses made me feel like I had really grown up. You can find frivolous ones at Pier1, more classic ones Bed Bath and Beyond, and personalized glasses for a special touch at 121 Personal Gifts.
For the special woman in your life
If you plan on surprising her with something beautiful that sparkles, consider giving it early so she can wear it through the whole season. She'll love to be dazzling during the holidays, and remember, diamonds look great with red!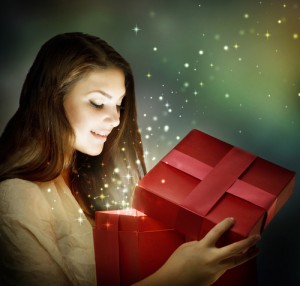 There is one more key to early gift giving. Make sure you make it clear this is the gift. You should not feel you then have to give something else on Christmas Day. Explain you are giving early, so the recipient can enjoy it all month. You do NOT have to explain the benefit you receive – one more present purchased, wrapped and completely checked off your list.