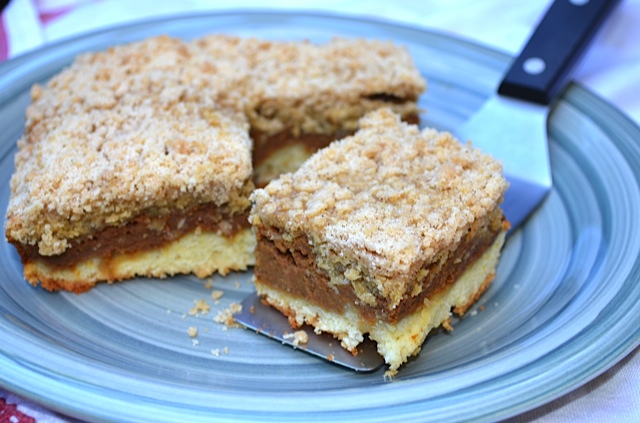 prepared by and photo by Emily Downs

Tis the season to use pumpkin.  Why not I say, in a crumb cake?  A slice of this luxurious crumbly cake, alongside a warm mug of apple cider hits the spot on an early fall morning.

Size:

makes 1 13x9" cake



Ingredients:
DRY MIX (used in cake batter & crumb topping):
1 cup sugar
2 1/2 cups flour
1 tsp salt
3 tsp baking powder
CAKE BATTER:
1/2 cup butter, softened
2 eggs
1 tsp vanilla
1/2 dry mix
PUMPKIN FILLING:
3 eggs
1 1/2 cup pumpkin puree
1 cup dark brown sugar
2/3 cup milk
2 tsp cinnamon
1 tsp ginger
1/2 tsp ground cloves
1/2 tsp nutmeg
CRUMB TOPPING:
1/2 cup flour
1/2 cup butter
1 tbsp water
1/2 dry mixture (see above)
1/2 tsp cinnamon
1/2 tsp ground cloves
1/2 tsp ground ginger



Directions:




Heat the oven to 350F.  Sift together the flour, sugar, salt and baking powder for the dry mix.

Beat the butter until whipped and creamy and then beat in the eggs and vanilla.  Beat in about half of the dry mix of flour and sugar.  Set aside.

In a separate bowl, whip together the eggs, pumpkin puree, milk, brown sugar and spices for the pumpkin filling.  Set aside.

In another bowl, mix the rest of the dry mix with a stick of butter, an extra half cup of flour, and the spices.  Add a tablespoon of water and mix with fingers until loose and crumbly.

Grease a 9×13″ baking pan and pat the dough into the bottom.  Pour the pumpkin filling over top and sprinkle the crumb topping over it.

Bake for about 45 minutes or until the filling is set inside.  Let cool for at least an hour before slicing.