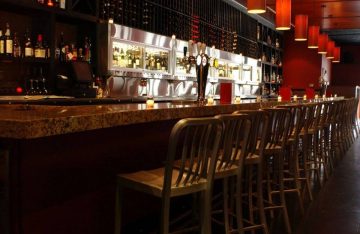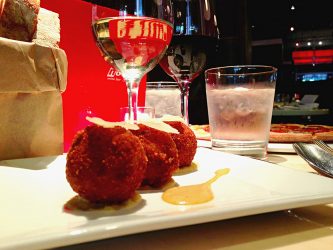 Located at 860 Franklin Avenue in Garden City is a Wine Lover's Delight – Novita Trattoria and Wine Bar. The restaurant servers lunch, dinner, weekend brunch and just added a Red Sauce Classics Sunday Menu. What is most intriguing about this restaurant isn't that it is chic and hip, it is that it has one of the most high tech wine pouring systems I have ever seen. Trying to explain it in layman's terms is next to impossible, so I will quote the restaurant themselves:
"In the Novita wine system, there are wine heads and a gas propellant that both preserve & help pour the wine, therefore oxidation is not a concern. the combination of optimum storage and the gas significantly lengthens the shelf life of the wine without affecting the taste.
To pour the wine, we simply place a glass under the tap and press the pre-programmed button.  the pours are pre-set to a 1/2 oz. taste, a 3.5 oz. glass and a 6 oz. full glass pour. the system has two different digitally controlled temperature zones, one for red & one for white.  the temperatures are adjustable, in order that we may serve each at optimal temperatures."
I have been to this restaurant many times meeting up with the ladies, but learning about their new Red Sauce Sunday is making me think another visit this Sunday is in the plans! Serving over 100 types of wines by the glass is pretty darn impressive wouldn't you say? Combine that with a classic dinner of one of my favorites, – Cavatelli pasta with crumbled sweet and spicy sausage with broccoli raab and toasted pine nuts or a Margherita pie with  tomato, basil, and fresh mozzarella – Delizioso! Oh! I almost forgot the ITALIAN NACHOS! Wowsa! These are warm house made potato chips covered in smoked pancetta, hot vinegar peppers, and  gorgonzola! That really has to be one of your first apps! ENJOY!