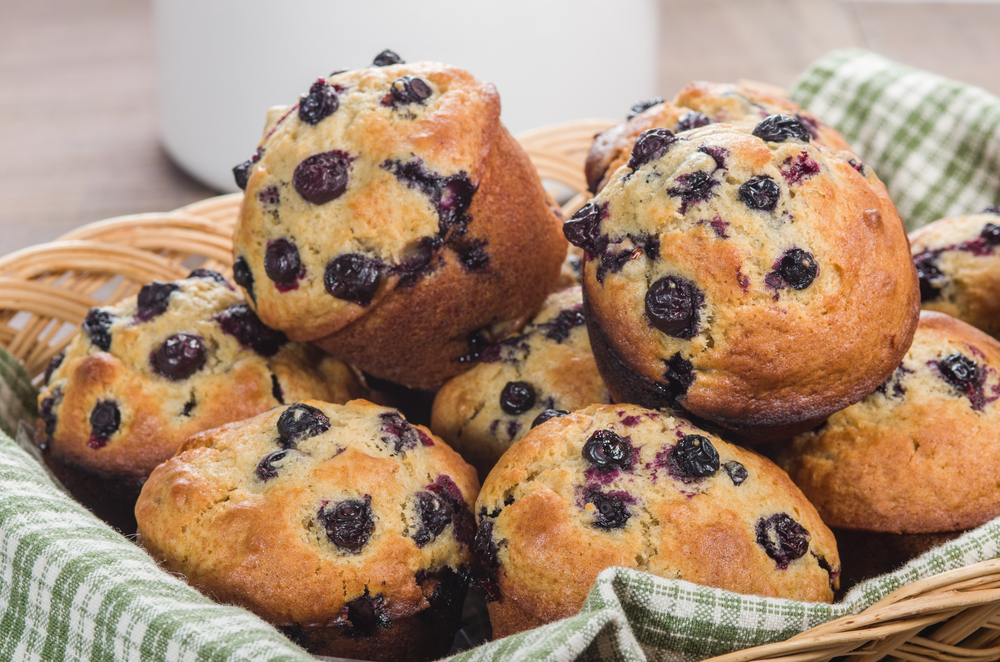 Blueberry Muffins

This is my favorite blueberry muffin recipe. My childhood friend's mother gave it to me 30 years ago. I think the lemon zest is what sets it apart from other muffins. They are very easy to make and perfect to serve for your children on the first day of school or when you are entertaining. Enjoy!

Size:

Makes one dozen



Ingredients:
2 cups unsifted all-purpose flour
1 TABLESPOON baking powder
1 Teaspoon baking soda
1/2 Teaspoon salt
1/2 cup granulated sugar
2 large eggs
3/4 cup buttermilk
6 Tablespoons unsalted butter, melted
2 Teaspoons finely grated lemon zest
1 Teaspoon vanilla
1 cup blueberries
cinnamon sugar for sprinkling on top



Directions:




Adjust rack to middle of oven and preheat to 400 degrees. Grease 12 muffin cups with vegetable oil cooking spray, then flour them. I just use paper liners instead.

Sift together flour, sugar, baking powder, baking soda and salt. Combine eggs, buttermilk, butter, lemon zest and vanilla. Stir into dry ingredients just until moistened. Do not beat until smooth because the muffins will bake grainy. I just mixed with a spatula. Stir/fold in fruit, mixing just enough to combine. Fill muffin cups 3/4 full. I use an ice cream scoop. Top each muffin with cinnamon sugar.

Bake 20 minutes or until muffins are golden. Cool 15-20 minutes before removing.