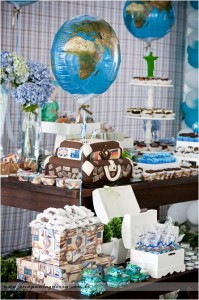 Travel the time zones. It's always midnight somewhere in the world, so set clocks around the house to ring in the New Year in other time zones. Bring the world to your house or neighborhood by having an Around the World Party.
Pick and choose your favorites. The best Around The World Parties have at least 4 countries. You could do one from each continent.
Location
Have different countries in different rooms of your home. This party is can also be turned into a progressive block party by teaming up with the people that live around you. Each of you hosts a country and the party will never stop.
Music Playlist
Play your favorite party songs or music from the countries your have at your party!
Invitations
Invites that looked like airplane tickets can be enclosed in a pamphlet style travel document holder. Printed on the computer, it is a snap to figure out how to make a tri-fold ticket holder. Or check out these editable printables for $14.95 on Simone Made It.
Around the World Party Decorations
Make big signs that say what country is where. Also, use flags and the colors of each country to decorate!
Have items (hats, clothing, decorations) from each country around to take photos with. For example, big beer steins for Germany, goofy tall England hats, sombreros for Mexico.
Country Drink/Cocktail Beer Food *
Australia 1) Aussie Boomerang Shot 2) Fosters Beer 3) Rissoles
Brazil 1) Emily's Caipirinha 2) Brahma Pão de queijo (cheese buns)
China 1) Crouching Tiger Shooter 2) Tsingtao Beer 3) Egg Rolls or Emily's Asian Style Flank Steak Entree
England 1) English Rose Cocktail 2) Fuller's London Beer 3) Fish & Chips
France 1) Champagne 2) Belzebuth Beer 3) French Cheese and Croissants
Germany 1) German Chocolate Cake Shot 2) Hofbräu 3) Bratwurst
Ireland 1) Irish Coffee 2) Guinness 3) Irish Soda Bread
Japan 1) Sake 2) Sapporo Beer 3) Sushi
Kenya 1) Dawa African Cocktail 2) Tusker Lager 3) Mandazi (fried dough)
Mexico 1) Tequila Shots 2) Dos Equis Beers 3) Tacos
Morroco 1) Moroccan Mint Tea Cocktail 2) Casablanca Beer 3) Shebakia Cookies
Peru 1) Pomelo Cocktail 2) Cusquena Beer 3) Oven Baked Plantains
Russia 1) Killing Rasputian Cocktail 2) Baltika 3) Pirozhki (little pies with savoury fillings)
Spain 1) Emily's White Wine Sangria 2) Estrella Beer 3) Emily's Spanish Pork Burgers
USA 1) Classic Gin Martini 2) Budweiser 3) Hot Dogs
Games & Activities
Create a treasure hunt throughout your countries.
Create trivia at each country that players must answer. Players drink if they miss a question.
Have flamenco dancing lessons is Spain.
A stein holding contest in Germany.
Play Irish Musical Chairs in Ireland.
Make Chinese Paper Lanterns in China.
Hold a Dance Contest in Brazil.
For each drink in each country have the recipe listed without one ingredient. Make your friends guess what's missing.