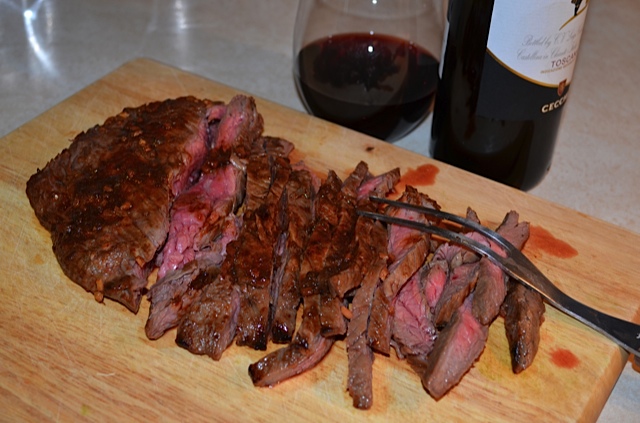 prepared by and photo by Emily S. Downs

This is one of the best flank steak recipes I have ever had. Great for your family or a crowd. The slaw makes it.

Size:

serves 5



Ingredients:
STEAK:
1/4 cup rice-wine vinegar
1/4 cup soy sauce
1 tbsp ginger root minced
1 tbsp sesame oil
1 tbsp brown sugar
1/2 tsp red pepper flakes
2 pounds of flank steak
COLESLAW:
3 tbsp peanut oil
1 shallot, minced
2 small bird chilies, seeded and minced
1 tbsp lime juice
1 tsp sesame oil
3/4 tsp kosher salt
3 cups of red cabbage, very thinly sliced(you can buy it that way)
2 carrots, peeled and cut into julienne(again you can buy that in bags or at a salad bar)
2 scallions, thinly sliced
1 cup basil leaves, thinly sliced



Directions:




STEAK: Whisk together the vinegar, soy sauce, ginger, sesame oil, sugar and pepper flakes. Place the steak in a large plastic bag or in a shallow, nonreactive pan. Pour the marinade over the steak and refrigerate for at least 6 hours and up to 36 hours.

COLESLAW: Whisk together in a large bowl the peanut oil, shallot, chilies, lime juice, sesame oil and salt. Add the cabbage, carrots, and scallions to the bowl. Refrigerate for at least an hour.

When ready to cook, prepare a grill or preheat the broiler. Grill or broil the steak, turning once, until it reaches the desired doneness, about 5 minutes per side for medium rare. Allow to rest 10 minutes. Meanwhile, toss the slaw with the basil and place a mound   of slaw on each plate. Slice the steak thinly on the bias, drape over the slaw and serve.