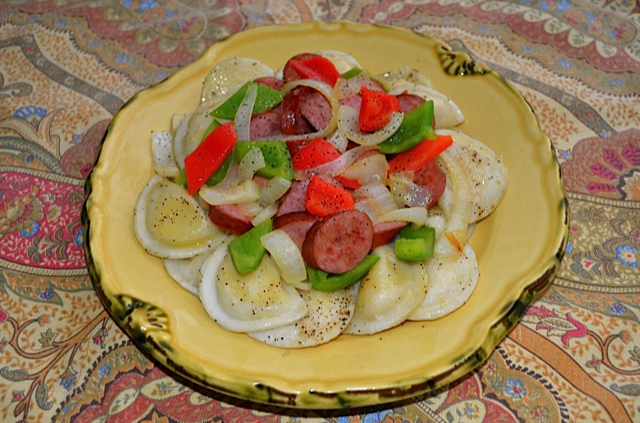 prepared by and photo by Emily S. Downs

Turkey kielbasa rather than full-on-pork, lightens this dish up a bit.  While fresh pierogies are fantastic, frozen are easier to find.   This is one of those meals you can jazz up anyway you'd like…  decrease the onion (maybe omit for those fussy kiddos), add Tabasco, sprinkle with cheddar, etc…

Size:

Serves 4-6



Ingredients:
1-2 tbsp extra-virgin olive oil
1 large green or red bell, or mixture of both, cut into 1/2" pieces
1 medium yellow onion, sliced
2 (13 oz) packages turkey kielbasa, cut into 1/2" pieces
1 (12+ oz) boxes of Mrs. T's Potato & Cheddar Mini Pierogies (frozen section)
Salt and pepper



Directions:




Heat oil in a large saute pan over medium-high heat.  Saute onion until soft and golden, approximately 10 minutes.  Add pepper pieces and saute 5 minutes more.  Add kielbasa and cook until heated through.  Salt and pepper to taste.

As onions, peppers and kielbasa cook, prepare pierogies according to package directions.

Serve kielbasa mixture over pierogies.