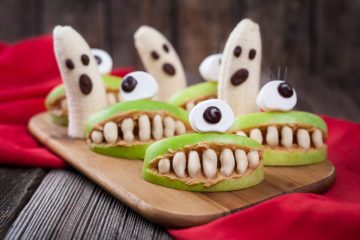 Treats don't have to be all sugar. Here are 10 of our favorite Healthy Halloween Treats for class parties or a fun snack at home. Trust us Teachers and other parents will thank you.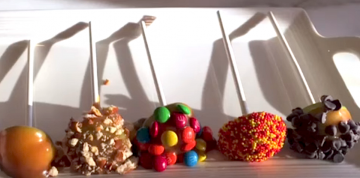 1. Mini Caramel Apples
This is the best caramel apple because it is bite sized and fun to make. It is so easy, that 2 of our teen contributors made them all by themselves. Check out the short video.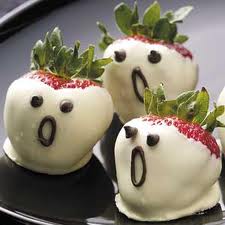 2. Strawberry Ghosts
You need fresh strawberries, 8 ounces white baking chocolate chopped, 1 teaspoon shortening, 1/8 teaspoon almond extract and 1/4 cup miniature semisweet chocolate chips?. Wash strawberries and gently pat with paper towels until completely dry. In a microwave-safe bowl, melt white chocolate and shortening at 50% power; stir until smooth. Stir in extract. Dip each strawberry in chocolate mixture; place on a waxed paper-lined baking sheet, allowing excess chocolate to form the ghosts' tails. Immediately press chocolate chips into coating for eyes. Freeze for 5 minutes. In a microwave-safe bowl, melt remaining chocolate chips; stir until smooth. Dip a toothpick into melted chocolate and draw a mouth on each face.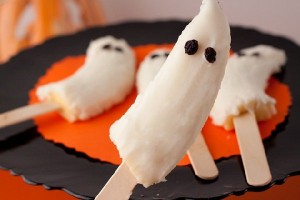 3. Boonana Pops
Give your kids a scare by making these easy and healthy frozen "Boo-nana" pops. All you'll need are some just-ripe bananas, popsicle sticks and raisins (for the eyes). Freeze them up, and serve. The kids will have fun chasing each other with their ghostly friends.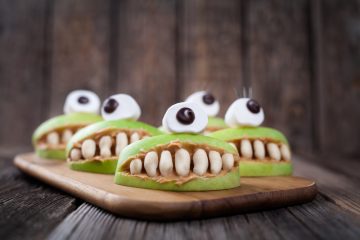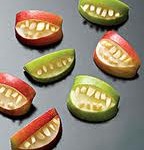 4. Witches' Teeth:
Core and quarter an apple. Remove wedge from skin side of each quarter to form a mouth. Fill with peanut-butter and insert variously shaped and sized slivered almonds, cashews or peanuts for teeth. You can also use small marshmellows. If you need a nut-free version, forget the peanut-butter and nuts: break pieces of white chocolate and insert into apple.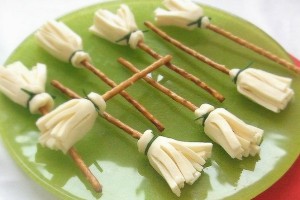 5. Bewitching Brooms
These little brooms are the perfect snack. All you'll need is stick pretzels, string cheese, and uncut chives to create these salty sweepers.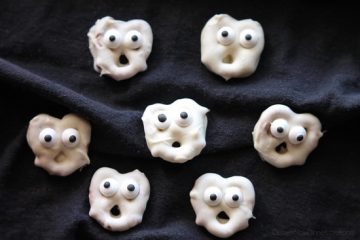 6. The Scream
Melt the 12oz of white chocolate and 1/2 tsp coconut oil  in the microwave. Dip pretzels in chocolate and leave bottom hole, so it looks like screaming mouth. Press on eyeballs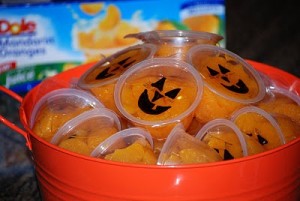 7. Easy Fruit Cups
All you need is individually packaged mandarin orange or peach cups and a permanent marker. Draw jack-o'- lantern faces on the packaging and you are done.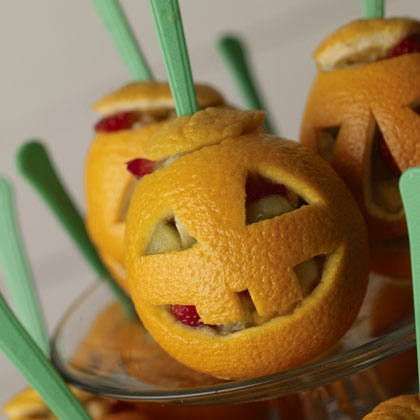 8. Orange Fruit Cups
To make one lantern, use a small knife to slice the top off a navel orange and cut around its interior to hollow it out. Scoop out the orange segments, chop them, and mix them with canned or fresh fruit salad. Carve small facial features in one side of the orange, then cut a slit in the lid to accommodate the handle of a green plastic spoon. Fill the lantern with fruit salad. Insert the spoon and set the lid in place.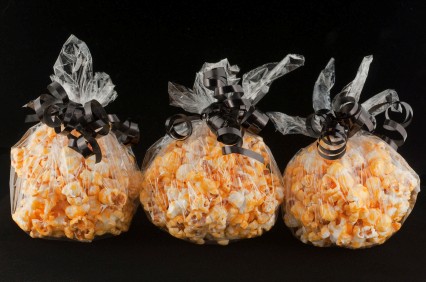 9. Popcorn
Fill the kids with a fiber-filled snack, popcorn. You can focus on the sweet or the salty with popcorn. After you pop your popcorn, pour it out onto parchment paper. Melt white or milk chocolate  in a measuring cup. Pour the chocolate over the popcorn and mix to cover each piece. Form balls before the chocolate hardens. If you want more of a Halloween touch, you can mix the white chocolate with orange food coloring or sprinkle orange and Halloween shaped candy sprinkles on the popcorn. If you prefer a salty snack, make some butter popcorn.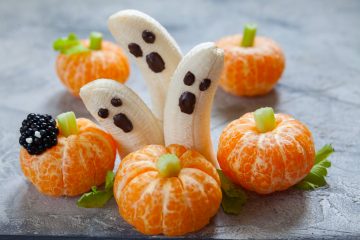 10. Clementines Make Cute Pumpkins
If you're doing one of the treats above, an easy addition is to peel clementines and surround your little ghosts
and goblins on the plate with them.You can use a celery stick, a pretzel or green licorice for the stem.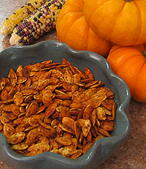 One more…
Butter Roasted Pumpkin Seeds
2 cups pumpkin seeds, 3 to 4 teaspoons melted butter or oil, salt to taste (try seasoned salt, garlic salt, or other herb blends for a different taste). Preheat oven to 300°F. Clean seeds. It's ok to leave a little of the pulp or string on the seeds but remove the excess. Toss the pumpkin seeds with melted butter or oil and the seasonings. Spread to a single layer on a baking sheet and bake for 40 to 45 minutes, stirring occasionally until lightly golden brown. Drain on paper towels.