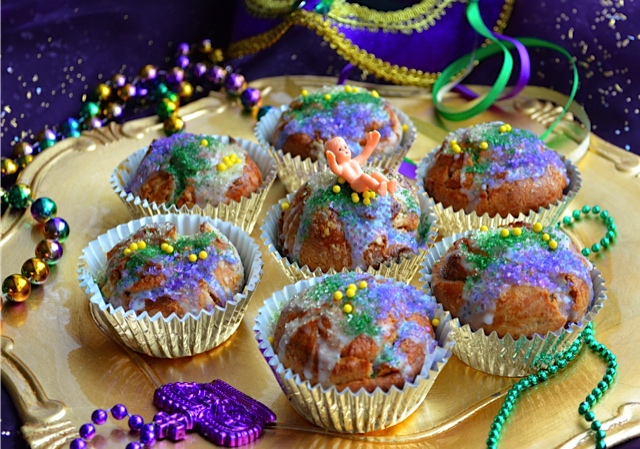 prepared and photographed by Emily Doscher

A traditional King Cake is similar to a twisted cinnamon pastry ring with loads of icing and these days, plenty of sprinkles.  Why not try the New Orleans classic in a cupcake form?  Don't forget to place the "baby" (which represents the Christ child) in one of the cupcakes.  Who ever finds it, is granted good luck throughout the following year.

Size:

makes 1 dozen



Ingredients:
1/2 cup warm whole milk (110F)
2 (1/4 oz) packages dry yeast
1/3 cup sugar, divided
1/2 cup unsalted butter, melted
3 egg yolks
1/2 tsp vanilla extract
1/2 tsp lemon zest
3 tsp fresh lemon juice, divided
1 1/2 cups all-purpose flour
1/2 cup cake flour
1 tbsp ground cinnamon, divided
1/4 tsp kosher salt
1 large egg, lightly beaten
1 cup powdered sugar
1 1/2 tbsp hot water
Purple, green, and yellow sugar sprinkles
One plastic mini baby doll (optional)



Directions:




Combine milk, yeast, and 1/4 cup sugar in a bowl.  Stir well, and set in a warm place for about 10 minutes (I place on top of warm oven).  In another bowl, combine butter and next 3 ingredients; stir in 2 teaspoons lemon juice.

Combine flours, 2 teaspoons cinnamon, and kosher salt in a large mixing bowl.  Add milk mixture and butter mixture, and beat, adding 1 to 2 tablespoons flour if dough is too sticky, until dough is smooth and forms a shaggy mass.  (It should remain soft.)

Place dough in a well-greased bowl, turning to grease top.  Cover with a kitchen towel, and let rise in a warm place (85F), free from drafts, about one to 1 1/2 hours (again, I place on top of warm oven).

Punch dough down, and place on a lightly floured surface.  Roll dough into 12 x 18″ rectangle.  Combine remaining 1 teaspoon cinnamon and 4 teaspoons sugar, and sprinkle evenly over dough.  Roll dough into a log, and cut into 12 equal pieces.  Places pieces into aper baking cups in a muffin pan; let rest 30 minutes.

Preheat oven to 375F.  Brush cupcake tops with beaten egg, and bake 20 minutes.  Remove from pan, and let cool on wire rack.  Combine powdered sugar, water, and remaining 1 teaspoon lemon juice in a small bowl.  Drizzle over cooled cupcakes, and top with sprinkles.  Makes 1 dozen.