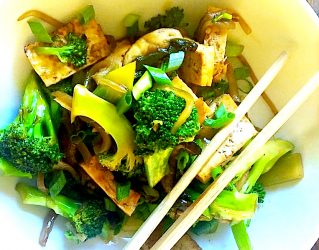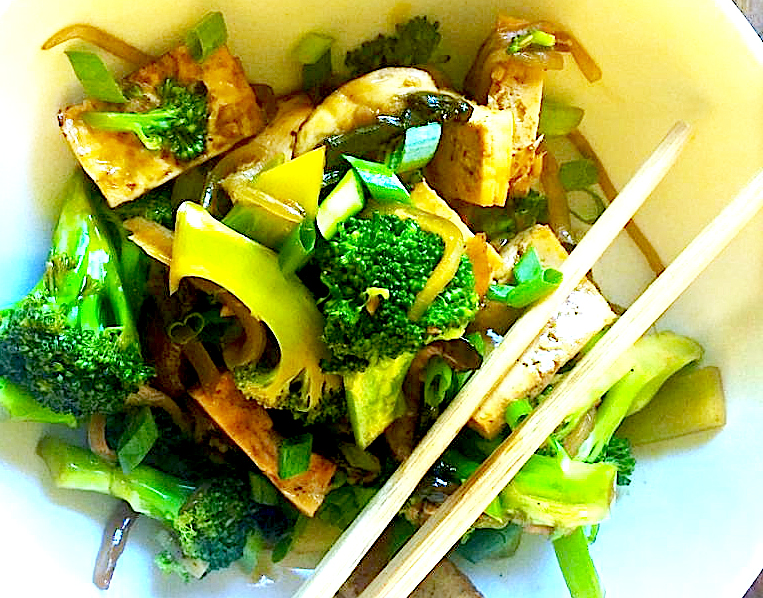 This is recipe is my friend Reshma Shah, founder of The Family Table. She also happens to be a pediatrician, mom of two and vegetarian. She always inspires me to try new ingredients and has a way of making healthy food that is delicious! This recipe is what she calls a "Friday night" sort of meal, meaning that there are a few extra steps, and it may not be the best recipe to test out for a quick weeknight meal. It's not complicated, but it's nice to have a little extra time and enjoy to enjoy cooking this one. It's an alternative to Chinese takeout: it has all the flavor and fun without the added grease, not to mention that it has loads of extra veggies. We wrote this out in steps to make it clearer.
Ingredients
2 blocks (14 ounces each) of extra-firm tofu
1 cup low sodium vegetable broth
1/2 cup low sodium soy or tamari sauce
2 tablespoons brown sugar
pinch of red pepper flakes
1/2 medium sized onion, thinly sliced
1 inch ginger, peeled and minced
3 cloves garlic, minced
1/2 pound mushrooms, sliced
large bunch of broccoli, cut into medium sized florets
2 tablespoons corn starch
2 teaspoons high heat cooking oil
2 to 3 scallions, sliced
1. To press the tofu, wrap the tofu in a paper towel and/or kitchen towel. Place a cutting board and a couple of cans of beans (or other heavy object) on top of the cutting board. Allow to sit for about an hour.
2. While the tofu is being pressed, prep your remaining ingredients.
3. To make the marinade, combine the broth, soy sauce, brown sugar and red pepper flakes. Set aside.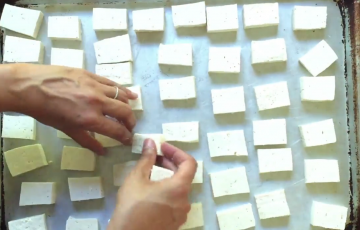 4. Once the tofu has been pressed, slice into even cubes and place on a baking sheet sprayed with non-stick cooking spray.
5. Lay the sliced tofu out into a single layer and bake at 375 degrees for about 20 minutes until the tofu is beginning to brown, without being crisp.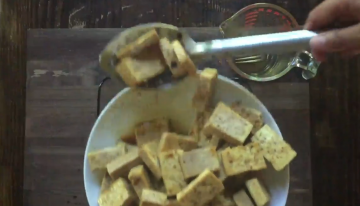 6. Place the baked tofu in a glass dish and pour the marinade over the tofu. Let marinate for at least 30 minutes.
7. Meanwhile, in medium sized pot filled with boiling water, blanch the broccoli florets for 2-3 minutes. They should be bright green, crunchy, and NOT cooked through. Set aside.
8. Remove the tofu from the marinade. Stir in the cornstarch into the marinade and set aside.
9. Warm your wok over medium high heat. Add 1 teaspoon of oil to the bottom of the wok and spread around.
10. Add to tofu and cook until lightly browned (about 5 minutes).
11. Remove the tofu from the wok and add 1 additional teaspoon of oil.
12. Add the sliced onions and cook until soft and beginning to caramelize. Next, add the minced ginger and garlic and sauté until fragrant (just about a minute), being careful not to burn the ginger and garlic.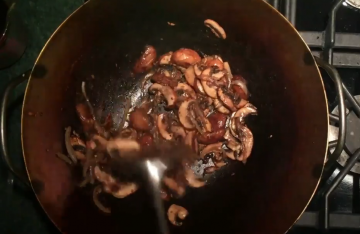 13. Add the sliced mushrooms and cook until soft and browned. (Note: you may need to add a tablespoon or so of broth if your veggies start to burn or stick to the bottom since the recipe calls very little oil)
14. Add the blanched broccoli and tofu. Give a quick stir to the sauce to make sure the corn starch is well incorporated and pour over the stir fry.
15. Mix to combine and cook for an additional 5 minutes, allowing the sauce to thicken slightly.
Serve over steamed rice and garnish with sliced scallions.
---
Why You Should Add Ginger to your Diet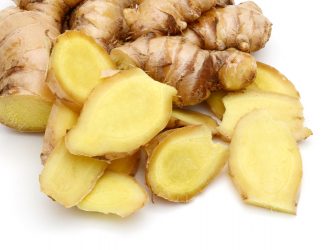 ---
Introducing Your Kids to Something a Different…with Something Familiar
Wok-Seared Chicken Tenders & Broccoli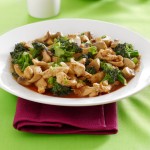 ---
Roasted Tomato & Heart-Healthy Garlic Soup