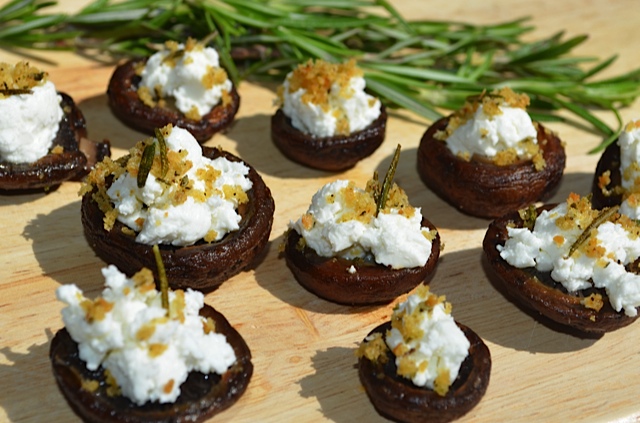 prepared by and photo by Emily S. Downs

A bite-sized proportion of complete satisfaction.  Loads of flavor in such a compact bundle. Recipe originated from Food & Wine.  So good I had to share.

Size:

(8 servings)



Ingredients:
24 large cremini mushrooms (1 1/2 lbs), stems discarded
1/4 cup plus 2 tbsp extra-virgin olive oil
1 tsp rosemary leaves, plus one 3" sprig of rosemary
Kosher salt and freshly ground pepper
3 tbsp fine bread crumbs
6 ozs fresh goat cheese, cut into 24 pieces



Directions:




Preheat the oven to 400F.  In a bowl, toss the mushrooms with 3 tbsps of the oil and the rosemary leaves and season with salt and pepper.  Transfer the mushrooms to a baking sheet, rounded side up.  Roast for about 30 minutes, until tender and browned around the edges.  Let cool to room temperature, about 15 minutes.

In a skillet, heat the remaining 3 tbsps of oil.  Add the rosemary sprig and cook over moderately high heat until the leaves are crisp, 30 seconds.  Drain on paper towels, then strip off the leaves.  Pour off all but 1 tsp of the rosemary oil and reserve it for another use.

Add the bread crumbs to the skillet and toast over moderate heat until golden and crisp, 2 minutes.  Stir in the fried rosemary leaves and season with salt and pepper.

Gently press a piece of goat cheese in the center of each mushroom, sprinkle with the bread crumbs and serve.

Make Ahead: The goat cheese-filled mushrooms can be refrigerated for up to 1 day.  Bring to room temperature and sprinkle with the breadcrumbs just before serving. 
---
We Are Crazy About This Tri-Bean Cilantro Salad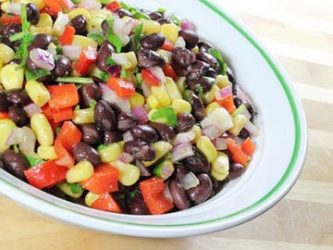 ---
---
One bite will transport you to a place just shy of heaven:
Chocolate Chip Oreo & Fudge Brownie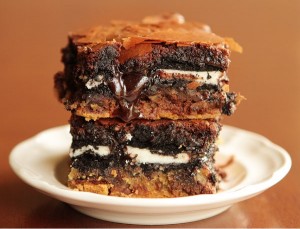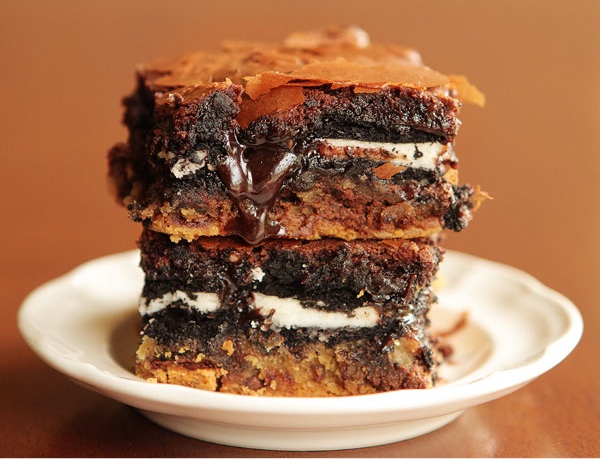 ---
Please Tell Me That Chocolate is Good for Me.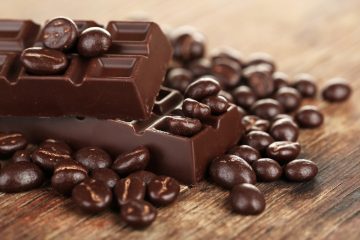 ---
Check Out Tammy's Home Based Workout–-That You Can Do it Anywhere.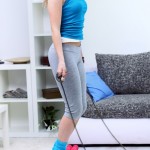 ---
 Only 9 Calories a Cup with 100% of the Vitamin A That You Need in s Day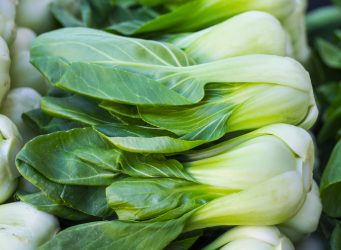 ---
Bok Choy So Good For Try Our Heart-Healthy Hoisin-Glazed Halibut with Bok Choy & Bulgur.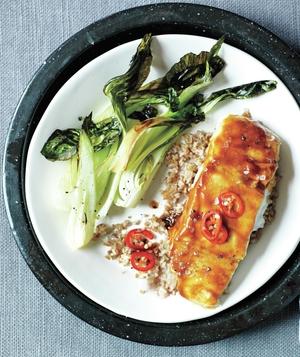 ---