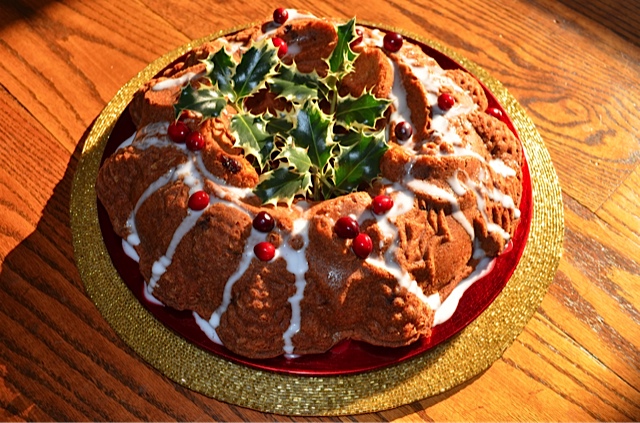 prepared by and photo by Emily S. Downs

Perfect cake for a group of holiday gatherers.  I love it for breakfast with my coffee or for dessert.  Moist yet loaded with texture.  Chewy dried cranberries, toasted almonds and a bit of exotic spices go into creating this gorgeous Bundt.

Size:

12 to 14 servings



Ingredients:
CAKE:
2 cups all purpose flour
3/4 cup almond flour/meal (Whole Foods)... about 2 1/2 ozs)
2 1/2 tsp Chinese five-spice powder (available at most food markets in spice section)
1 tsp baking powder
1/2 tsp baking soda
1/2 tsp salt
1/2 tsp ground cinnamon
1/2 tsp ground ginger
1 cup (2 sticks) unsalted butter, room temperature
1 cup sugar
1 cup (packed) golden brown sugar
3 large eggs
1 1/2 tsp vanilla extract
1 cup plain reduced-fat (2%) Greek-style yogurt
1 cup chopped toasted almonds
1 cup halved fresh or frozen cranberries (do not thaw)
1/2 cup dried sweetened cranberries
ICING:
1/3 cup powdered sugar
3-4 tsp (about) orange juice



Directions:




CAKE: Preheat oven to 350F.  Butter and flour 12 cup Bundt pan.  Whisk first 8 ingredients in medium bowl to blend.  Using electric mixer, beat butter in large bowl until smooth.  Add both sugars and beat until fluffy, about 3 minutes.  Add eggs, 1 at a time, beating 1 minute after each addition.  Beat in vanilla extract, then Greek-style yogurt.  Add dry ingredients; beat just until blended.  Fold in almonds and all cranberries.  Transfer batter to prepared Bundt pan.

Bake cake until tester inserted near center comes out clean, about 1 hour 10 minutes.  Turn cake out onto rack and cool completely.

ICING:  Stir powdered sugar and 2 teaspoons orange juice in small bowl until sugar dissolves.  Mix in more juice by 1/2 teaspoonsful to reach consistency of heavy cream.  Spoon icing over cake, allowing it to drip down sides.  Let stand until icing sets, at least 30 minutes.  (Can be made 3 days ahead.  Cover w/cake dome and store at room temperature.)

One of Our Favorite Holiday Cookies:
Peppermint White Chocolate Chip Cookies.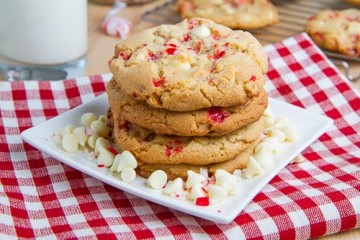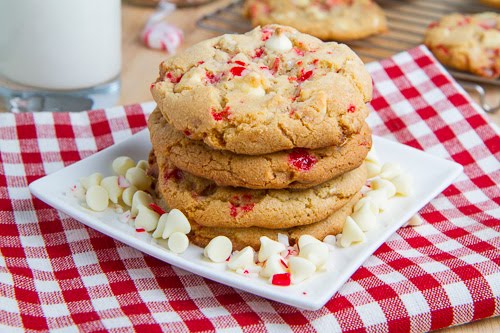 Is chocolate good for you? Find out the heart-healthy benefits of chocolate.