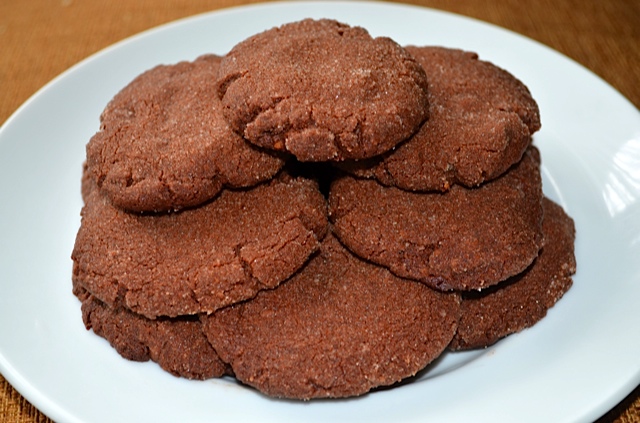 prepared by and photo by Emily S. Downs

Rich chocolatey-chocolate chip shortbread cookies won't last long in the cookie jar.  Flakey yet dense enough to dunk.

Size:

makes about 30



Ingredients:
1 1/2 cups all purpose flour
1/3 cup unsweetened cocoa powder
1/2 tsp salt
2 cups semisweet chocolate chips, frozen 1 hour
3/4 cup (1 1/2 sticks) unsalted butter, diced, room temperature
1 cup sugar
1 large egg yolk
2 tsp vanilla extract
3/4 tsp almond extract
1 cup walnuts, coarsely chopped



Directions:




Preheat oven to 375F.  Whisk flour, cocoa, and salt in small bowl to blend.  Coarsely chop 1  1/2 cups chocolate chips in processor.  With machine running, add butter, then 1/2 cup sugar through feed tube.  Add egg yolk and both extracts and process to blend.  Using on/off turns, mix in walnuts, scraping down sides of bowl occasionally.  Add flour mixture and process just until dough comes together, about 1 minute.  Transfer dough to large bowl.  Using hands, mix in remaining 1/2 cup chocolate chips.

Using 1 tablespoon dough for each, shape dough into 1  1/4″-diameter balls.  Press each dough ball to 1/2″ thickness; dip 1 side into remaining 1/2 cup sugar to coat.  Arrange cookies, sugar side up, on 2 ungreased baking sheets.  Bake cookies until set and almost firm to touch about 10 minutes.