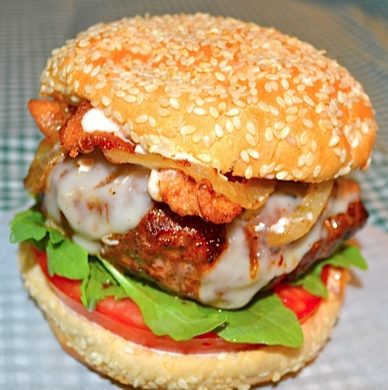 prepared by and photo by Emily S. Downs

Another ultimate favorite of mine.  The combo of the spicy Sriracha with cool, creamy blue cheese dressing, along with the salty bacon, swiss cheese and caramelized onions provide an even bigger flavor to this already zesty-infused burger.  Do you need wet-wipes during this eating experience?  Absolutely.  Do you look like an utter animal while devouring this burger?  Of course you do.  Do you care?  No.  You don't!

Size:

serves 8



Ingredients:
3 lbs ground beef (80/20 fat)
1/4 cup soy sauce
10 tbsp Sriracha (in Asian section of supermarket), divided
4 tsp freshly ground black pepper
4 slices thick-cut bacon
2 medium sweet onions or 1 x-large sweet onion
3/4 cup blue cheese dressing
8 sesame seed buns
8 thick slices Swiss Cheese
1 large beefsteak tomato, sliced
Arugula



Directions:




In a large mixing bowl, combine the ground beef, soy sauce, 5 tbsp of the Sriracha, and the pepper.  Do not over-mix (burger gets tough from over mixing).  Form the mixture into 8 patties, and set aside, on a parchment-lined baking sheet, covered, in the refrigerator.

Preheat a charcoal or gas grill to medium-high heat.

In a medium frying pan over medium-low heat, cook the bacon, turning as necessary. While the bacon is cooking, peel and quarter the onions.  Cut each section into 1/4″ slices.  Once the bacon is cooked through and slightly crispy, remove the slices from the pan, cut each in half crosswise, and drain onto paper towels, reserving the remaining bacon fat in the pan.  Cook the sliced onions in the bacon fat over medium-low heat until they caramelize, 20-25 minutes (oh yes… a must).

Grill the burgers, turning once, 4 to 4 1/2 minutes on each side (or until a meat thermometer registers 130-135F for medium-rare) or more for desired doneness.

While the burgers are cooking, in a small bowl, combine the blue cheese dressing with the remaining 5 tbsp Sriracha.  Lightly toast the buns on the grill during the last minute of cooking time.

To assemble, spread the blue cheese mixture on both halves of each hamburger bun. Stack a burger patty, Swiss cheese slice, bacon, caramelized onions, tomato slice, and a small handful of arugula between each hamburger bun and serve.