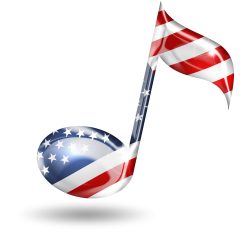 Inspire patriotism and partying at the same time. Here are my top 20 must-hear songs for Fourth of July:
American Girl — Tom Petty
Born in the U.S.A. — Bruce Springsteen
Party in the U.S.A. — Miley Cyrus
Freedom — George Michael
Firework — Katy Perry
American Woman — Lenny Kravitz
American Saturday Night — Brad Paisley
R.O.C.K. in the U.S.A. — John Mellencamp
Change — Taylor Swift
Freedom — Kenny Chesney
American Boy — Estelle
Take Me Home Country Road — John Denver
Free Bird — Lynyrd Skynyrd
Young Americans — David Bowie
Free — Zac Brown Band
American Baby — Dave Matthews Band
Made in the U.S.A. — Demi Lovato
American Idiot — Green Day
American Honey — Lady Antebellum
Red Solo Cup — Toby Keith*
*Recently I had a kid from Czech Republic staying with me and one of her first questions about America was, "Where are those red cups you bring to parties?"
Happy Fourth, fill your red solo cup and your sound waves, and raise your cup to the men and women who sacrificed everything for our freedom.