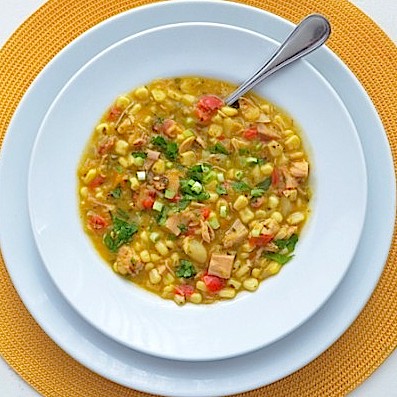 Warm up with this savory bowl of chunky, tender pieces of roasted chicken, bacon, corn, butternut squash, peppers, and onions and seasonings.
SIZE: 10 servings
INGREDIENTS:
10 bacon slices, chopped
2 tablespoons (1/4 stick) butter
3 medium onions, chopped
2 cups chopped red bell peppers (about 2 large)
1/4 cup all purpose flour
9 cups low-salt chicken broth
4 cups 1/2″ cubes peeled seeded butternut squash (cut from one 1 3/4″ squash)
1 1/2″ tbsp chopped fresh thyme
2 16 oz bags frozen corn kernels
1 cup whipping cream
4 cups diced skinned roast chicken (I use from a store-bought rotisserie chicken)
2 cups chopped green onions
1/2 cup plus 2 tbsp chopped fresh cilantro
DIRECTIONS:
Cook bacon in large pot over medium-high heat until crisp. Using slotted spoon, transfer bacon to paper towels to drain.
Pour off all but 1/4 cup drippings from pot. Add butter to pot; melt over medium-high heat. Add onions and 1 cup bell peppers. Saute until onions are soft, about 10 minutes. Add flour, stir 2 minutes. Mix in broth, then squash and thyme; bring to boil. Reduce heat to medium-low; simmer uncovered until squash and potatoes are tender, about 12 minutes. Add corn cream, and 1 cup bell peppers. Simmer until corn is tender, about 10 minutes. (Can be made 1 day ahead. Cool. Chill uncovered until cold, then cover and keep chilled. Bring to simmer before continuing.) Add chicken, 1 cup green onions, and 1/2 cup cilantro; simmer 5 minutes. Season with salt and pepper.
Ladle chowder into bowls; sprinkle with remaining 1 cup green onions and 2 tablespoons cilantro.
First published by Emily Sarah Downs, 2013.