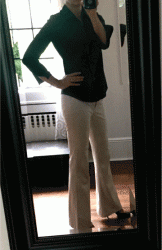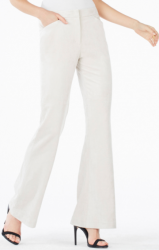 I am LOVING these faux suede trousers from BCBG. They're soft to the touch and have a very flattering hugging the thighs and butt, and flaring a bit at the ankle creating a slimming fit. They have a slightly higher waist to "hold in" the tummy area. They're made with a touch of spandex so they retain their shape. I wore them for an entire evening sitting at dinner and they still held their shape.  Best to buy them one size smaller–you want them tight and fitted.
And lucky you: they're on sale for $138! (Originally, they were $198.)
And they have 2 day shipping! Grab a pair here: the BCBG Steph pant.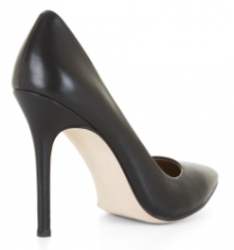 I paired it with a dark, navy fitted silk Theory shirt and high, pointy-toed BCBG pumps ($198).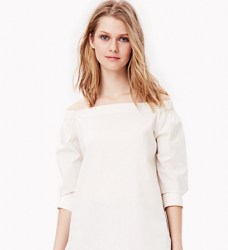 But I also like this light summery look when you pair it with this Poplin Off-The-Shoulder Shirt by Theory in crisp, cotton with just a touch of stretch. $235 and a pair of off-white strappy heels, Steve Madden. Only $79.