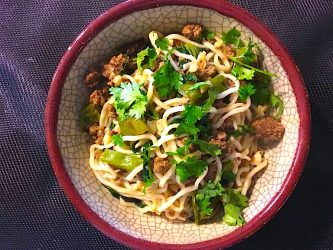 I recently joined Blue Apron and came across this fantastic recipe for Sesame Beef Lo Mein – and it turned out so well that I just had to share it. Here is what you will need:
1 1b of lean ground beef
1/2 lb of Lo Mein noodles
6-8 small Shishito peppers
4 heaping tablespoons of minced garlic
Juice of one lime
1/2 lb of bok choy
cilantro to garnish
1 tablespoon  sesame oil
2 tablespoons of sushi sauce
Hot sauce to taste
Wash and dry fresh ingredients. Roughly chop the bok choy, cilantro and cut the peppers in quarters (no need to remove the seeds). Then, brown beef in a drizzle of olive oil while boiling water for the lo mein. While the water is boiling, toss the peppers w/ salt, pepper and olive oil. Roast them until brown, about 8 minutes.
When beef is browned, add bok choy and saute until tender. Add garlic, 1/3 cup of water and the hot sauce (we used Sambal Oelek) with salt and pepper. Remove from heat and stir in lime juice.
Finally, add noodles when they are tender, drain them and leave a 1/2 cup of the starchy water set aside. Finish off this healthy dish with the remaining water from the lo mein and garnish with fresh cilantro. Season with salt and pepper.
*I was hesitant about joining a meal "club" but realize that besides educating our palates with meals we would have never thought of, it actually unites the family in the kitchen. The directions are so explicit that even a child can help  wash and prep veggies, and spouses can get their hands dirty peeling garlic, chopping and dicing, etc. The portions are exactly as they say – If you are a family of four, there will be enough for just that – no less and no more. If you like to have leftovers then I suggest getting a plan one size up from what you would normally order. They are currently running a special where if you sign up, you receive the first three meals free (I'm pretty sure that can be up to a $60 savings.)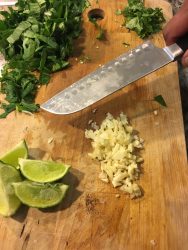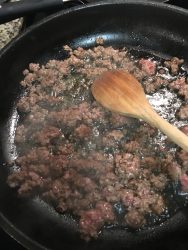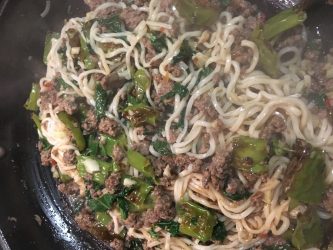 ---
Find Out Why You Should Add Bok Choy to Your Diet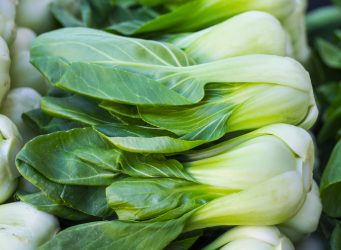 ---
Try Our Hoisin-Glazed Halibut with Bok Choy & Bulgur.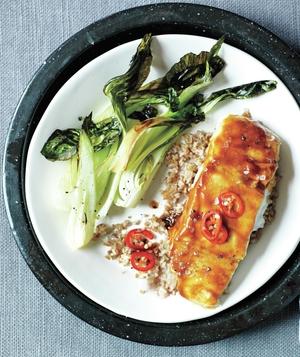 ---
Zucchini Noodles with Garlic & Oil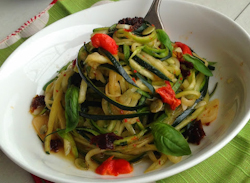 Size:

2 servings