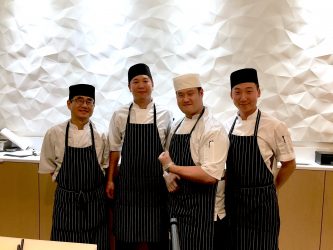 If you haven't tried Shumi Sushi yet, let me tell a little about it. This is upscale, beautifully delicate, well-thought out sushi made by Master Chef Aikasa and sushi chef, David Seo. We happen to pop in late on a Friday night after the crowds had passed and sat at the sushi bar. The space is bright and chic with a back-lit textured wall that makes you feel like you're truly out for the evening.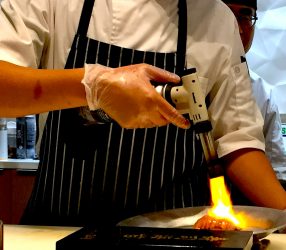 While we were waiting for out sushi and rolls to come out, we sat munching on warm edamame and watched 2 pieces of gorgeous Marinated Smoked Salmon get lightly torched. To our delight, alhtough we didn't order it, the chef placed this beautiful dish in front of us–and it was to die for. The salmon was tender with a subtle, smoky undertone that reminded me of a barbecue.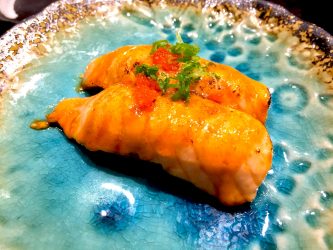 We started with the fried oyster salad, deep-fried breaded oysters served on a bed of greens with flash-fried thinly sliced radishes; you'll wish you had an entire bowl of these to snack on.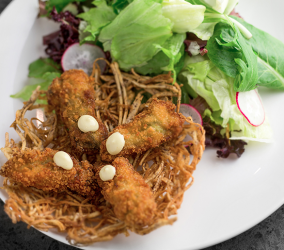 We had a chance to chat with the staff who couldn't have been friendlier and were happy to share their passion about fish with us. Chef Chris, who is Japanese and grew up in Brazil, knew his fish. He explained that tuna from Japan is fattier because the water is colder. "The tuna you're about to eat was flown in from Spain."
Each piece of sushi I had was delicate and beautifully cut and presented. The salmon is marinated in vinegar and salt 30 minutes before serving to make it more tender. The tuna turned out to be perfect; I might not eat tuna from anywhere but Spain again!
My husband devoured and raved about the Monk Fish Liver and Spicy White Tuna Roll. and his Hotate (Scallop) Sushi. Suffice it to say, it was gone before I could try it.
The Red Snapper Sushi was my favorite. It comes with a dollop of spicy ponzu sauce made from radishes that gives it a bitey taste.
As far as prices, they're no more than any place than any other place in town. Sushi $9 for 2 pieces. Rolls range from Stop in and be sure to sit at the sushi bar so you can get to know them. You'll love them.
Not sure what to order? Ask for the "Omakase," the chef-selected tasting menu. In Japanese, this translates to "I will leave it up to you."
There are so many things on the menu that I want to try like the Otoro Salad with grilled blue fin tuna belly salad with special dressing and the Salmon Mozzerella! I was surprised to see cheese on the menu at all! The dish is a traditional oshizushi style roll with seared salmon, melted mozzarella, spicy mayo, eel sauce, fried onion!
Bottom line: Everything we ate was beautifully plated, well thought out, created with real caring and served in a beautiful space. And the staff are people you'll enjoy getting to know. Happy to have them here!
Shumi, 70 E Ridgewood Ave, Ridgewood, NJ 07450