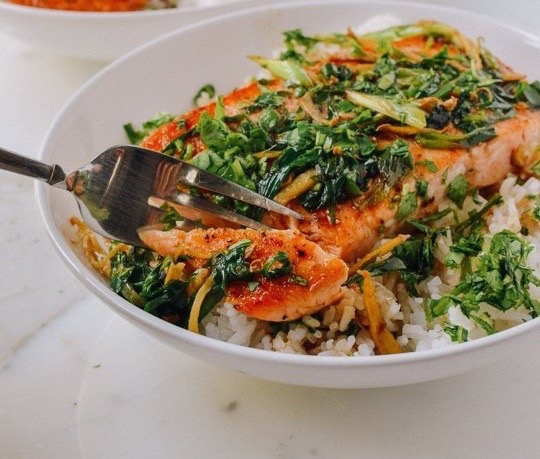 photo creds: thekitchn.com

Choose a healthier option for dinner tonight. Salmon is an entree that serves no guilt but tons of nutrition.

Size:

serves 4



Ingredients:
4 salmon fillets (6 oz each)
Salt and freshly ground black pepper
3 tbsp vegetable oil
3 tbsp finely julienned fresh peeled ginger
3 scallions, finely julienned
3 tbsp water
3 tbsp soy sauce
1/2 tsp sugar
1/4 cup cilantro leaves chopped
Steamed rice



Directions:




Pat the salmon dry with a paper towel and season lightly on both sides with salt and pepper.

Heat a cast iron skillet over medium-high heat and add 1 tablespoon of oil. Sear the salmon on each side until it reaches desired doneness (depending on the thickness of your fillets, it should be cooked between 2 to 4 minutes per side). Remove to a serving plate.

Add the remaining 2 tablespoons of oil to the pan, along with the ginger, and cook until the ginger is caramelized. Add the scallions and cook for another 30 seconds. Add the water, soy sauce, and sugar and stir. Pour the sauce over the salmon, and sprinkle with cilantro. Serve with steamed rice.