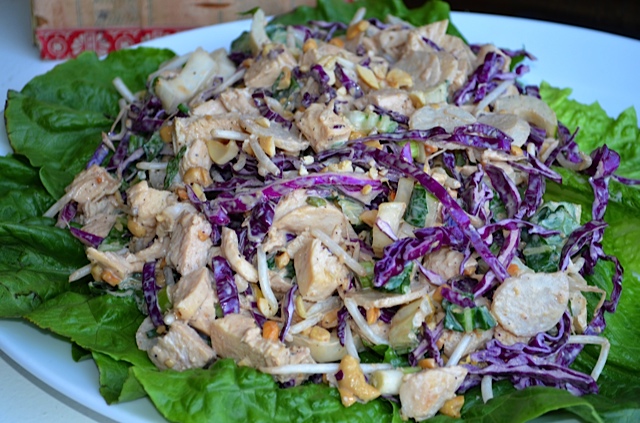 prepared by and photo by Emily S. Downs

Crunchy, crisp and slightly nutty.  Difficult to not go back for seconds.  Feel free to substitute blanched, toasted almonds or a 1/4 cup of toasted sesame seeds for the cashews.

Size:

serves 6



Ingredients:
DRESSING
1 egg
1/4 cup sesame oil
3/4 cup corn oil
1 tsp sugar
1/2 tsp pepper
3 tbsp vinegar (unseasoned rice vinegar, if you have it)
1 tsp minced garlic
1/2 tsp salt
2 tsp minced fresh ginger
3 tbsp Dijon mustard
2 tbsp soy sauce
1 tsp lemon juice
SALAD
2 lbs boneless, skinless chicken breast (3 1/2-4 cups cooked and cubed meat)
2 cups bok choy, 1/4" slices
1 1/2 cups bean sprouts
2/3 cup scallions in 1/4" slices
1/3 cup sliced bamboo shoots
1/2 cup sliced water chestnuts
Romaine leaves
2 cups finely sliced red cabbage
1 1/2 cup snow peas (cut in 1/2)
3/4 cup chopped salted cashews



Directions:




DRESSING: Whiz the egg in  a food processor or blender or whisk by hand until light-colored.  Gradually add the sesame and corn oils until well homogenized.  Add the remaining ingredients.

SALAD: Combine cubed cooked chicken with the sprouts, bok choy, scallions, snow peas, bamboo shoots, and water chestnuts.  Toss with the dressing and arrange on romaine.  Garnish with the red cabbage and cashews.