WHAT'S HAPPENING OCTOBER 2017 EDITION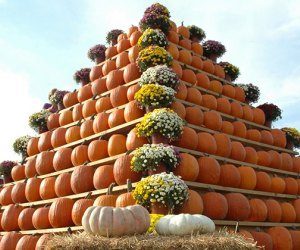 ---
Madison "Scarecrows of Waverly Place"
Waverly Place, Madison
Now through November 1
Madison businesses will participate by decorating a scarecrow in representation of their business. Have fun strolling along Waverly Place and discover the originality and creativity that goes into each and every one of them. These scarecrows are guaranteed to bring a smile to your face!
Barktoberfest! Pet Adoption @ Turtle Back Zoo
Turtle Back Zoo Education Center, 560 Northfield Ave, West Orange
Saturday, October 21 from 11AM to 3PM
Join the Turtle Back Zoo Education Center for a fun filled day celebrating and supporting local animal rescue groups. Shop vendors, enjoy music and entertainment while you find a forever friend.  Animal enrichment and education tables will be on site. For more information contact andreazoologicalsociety@gmail.com
Celebrate Fall
Reeves Reed Arboretum, Summit 
Sunday, October 22 from 11AM to 4PM
 Games, crafts, music, face painting, seasonal cooking demonstrations, and GOATS! Families can explore the Spooky Trail, decorate a pumpkin, and join the costume parade. Or simply enjoy autumn colors and yummy fare from one of the vendors.
Celebrate Fall is FREE for RRA Members and children under 3.
The cost for Non-Members is $10/person, $25 maximum per family. Pre-registration is not required. Questions? Please contact Jackie Kondel at 908-273-8787 X-1515 or j.kondel@reeves-reedarboretum.org
Madison Trunk or Treat 
Parking lot adjacent to the Hartley Dodge Memorial Building 
Friday, October 27 at 6:00PM
Participants are encouraged to decorate the inside of their car trunks in a creative theme, and allow children dressed in costume to trick or treat from trunk to trunk.
Admission: $10 per car. Walk-in trick or treaters are asked to make a minimum donation of $2 per person. Proceeds benefit Madison Volunteer Ambulance Corps. *Please note parents are responsible for checking all candy for children with allergies
To enter your car contact Diane Fastiggi at dianefastiggi@gmail.com
Pumpkin Illumination
Hartley Dodge Memorial Building, 50 Kings Road, Madison
Friday, October 27 at 6:45PM
BOO! Following Trunk or Treat, families are invited to get creative by bringing their jack-o-lanterns to the Hartley Dodge Memorial Building, where they will then be illuminated for all to enjoy at 6:45pm. Battery operated candles will be provided for illumination. Pumpkins will be returned to their owners after the event.
Halloween Parade & Magic Show
Hartley Dodge Memorial Building, 50 Kings Road, Madison
Saturday, October 28 (starting at 12:30PM)
The Halloween costume parade begins promptly at 12:30pm in front of the Hartley Dodge Memorial Building. Followed by the Joe Fischer Magic Show at 1pm, and then at 1:30pm, Trick or Treating at Madison's participating businesses.
Don't forget to visit Madison PhotoPlus for a free photo of your child in costume!
---