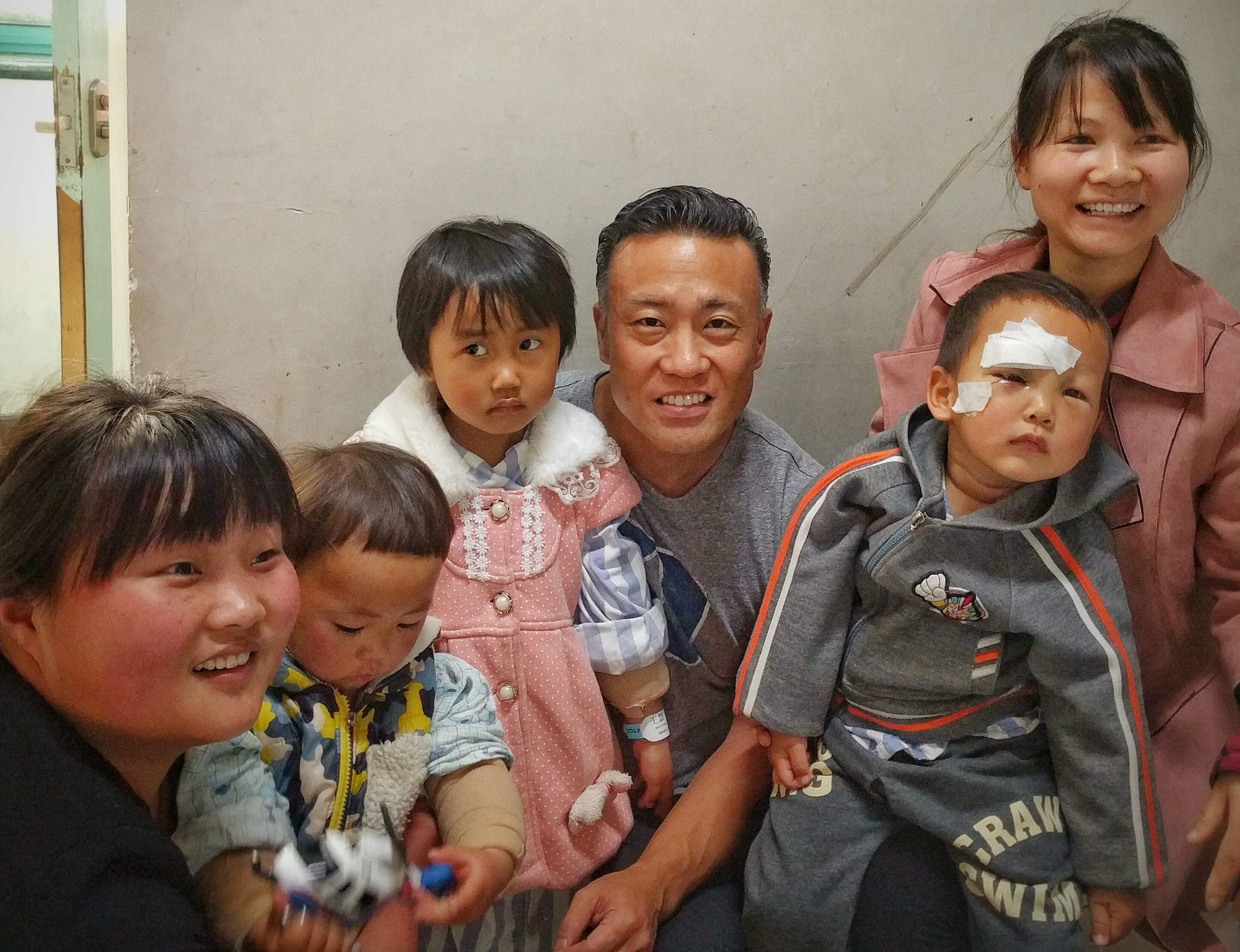 Today, I spoke with Dr. Sam Rhee, a plastic surgeon who practices right here in Glen Rock. While I wanted to ask all kinds of questions about how to make my body look like it did pre-babies (or possibly like Giselle's) I tried very hard to focus and stick to the purpose of the interview — his work with children in China. Sometimes we think plastic surgeon and we cannot think beyond boob job and botox, so it was enlightening to learn about Dr. Rhee's philanthropic side and the difference he is making overseas. His talents and caring are certainly much more than skin deep, and to boot, he's a really nice guy to talk with.
Next time I'm asking him about this weird bump coming out of my belly button.
Me: Thanks so much for talking with me about your work in China. When and why did you get involved?
Dr. Rhee: My first medical mission trip was during plastic surgery training 13 years ago at University of Michigan. A senior surgeon took a medical team to Colombia, where we performed cleft lip and palate surgery for children who had come from the poorest areas with limited access to care.
It was a transformative experience as a physician. That first international mission trip provided a great chance to focus on caregiving in the most direct way. There were no considerations except to try to help our young patients. Such a pure caregiving experience is rare in medicine nowadays.
Since then, I have participated in medical missions trips almost every year, to places including Bangladesh and China. Each trip is also a unique experience to learn about language, people, and cultures.
Me:  What kinds services are you providing on your trips?
Dr. Rhee: Most of the mission surgeries are cleft lip and palate repairs. However, on these trips, we encounter and treat a number of other types of pediatric facial deformities, such as deformed ears or injuries such as burns scars.
In addition, a large part of our trips now involve collaborating with international plastic surgeons and working to educate local healthcare providers and hospital personnel.
Me: I guess I can imagine what this must be like for a family, but can you give me an example of how this makes a real difference in the life of a child? Perhaps one particular story stands out?
Dr. Rhee: On my last trip to China in March, there was a young orphan boy who was born with a partially closed right upper eyelid. He could only see if he tilted his head backwards. After surgical eyelid correction, he could see better immediately. Watching him play with toys in his bed after the surgery with his head straight, was really gratifying.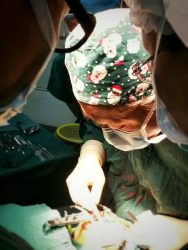 Me: What an amazing gift you can give these kids. I volunteer a couple days a month, and sometimes I have trouble finding the time. How do you do it? You have a busy practice, your wife has a demanding job and you have two kids. How do you get yourself to China?
Dr. Rhee: No doubt, it was easier when I first started as a plastic surgeon: no children, a lighter workload and my body was 10 years younger. 14 hour flights and jet lag after traveling definitely gets tough after a while! However, even with increasing work and family responsibilities, I believe that service to others should always be a highlight in anyone's life. Helping others helps us focus on what is truly important, and that is something I hope my children can learn by example.
I keep the trips to no longer than a week, and planning way in advance helps a lot!
Me: Your kids are lucky to have you as a role model. When do you plan on going back?
Dr. Rhee: The next planned trip will be in March or April 2017, with Children of China Pediatrics Foundation (CCPF) to Nanjing, China.
Me: Time flies. That's right around the corner. The older I get, the more emotional I get. Do you find it hard to separate yourself from the kids when it is time to go?
Dr. Rhee: Definitely leaving the hospital on the last day of a trip can be heart-wrenching. It is hard to see so many children under such difficult conditions. In fact, the founder of CCPF adopted a baby girl from an orphanage in China and based on her experience, she began mobilizing a team of volunteer surgeons to provide medical care to children living in China's orphanages.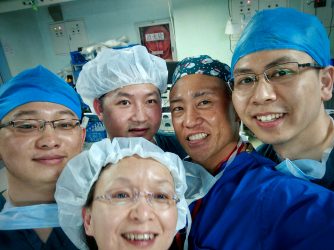 Me: It sounds like an amazing group of people you are working with. We can't all help in the incredible way you help these kids obviously, but do you have any advice for people who want to do more either in their own community or globally, but can't figure out how to get started?
Dr. Rhee: Medical mission trips are definitely exciting, and there are many opportunities for people with different skill sets to become involved. In addition to national non-profit organizations such as CCPF, there are many local churches and other groups that organize medical aid to both local and global destinations. The most important thing is deciding to do something: the rest will follow soon enough!
Me: O.K. So I am totally impressed and inspired. Next time, can we talk about this weird bump coming out of my belly button?